LAX shows off its bright, shiny Tom Bradley International Terminal
The facility will open later this year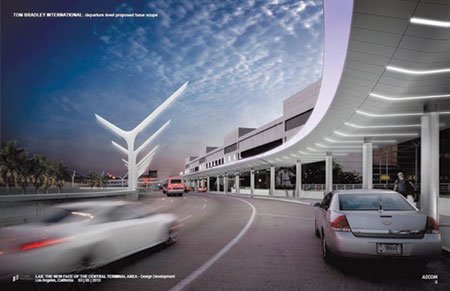 Officials at Los Angeles International Airport (LAX) last week were practically giddy in showing off the new Tom Bradley International Terminal (TBIT), part of $4.1 billion capital improvement project at the aging airport. Once the ultimate destination point during the early jet age, LAX has been passed over by travelers (and airlines) of late for more modern airports west of the Rockies such as San Francisco International, Seattle-Tacoma and the ultra-modern Denver International. LAX has not witnessed major improvement since the 1984 Los Angeles Olympics when the first Tom Bradley Terminal opened.
Hollywood has traditionally shown the famous theme building when the storyline involved LAX, but now the Great Hall—resembling a cresting wave breaking over the nearby shore—will likely be the world's first image of the new LAX.
The facility won't open until later this year, but many among the hundreds of press personnel and business leaders—even in sometimes jaded Los Angeles—were heard to remark: "… it has that new-car aroma." Workers were still busy laying tile and carpeting, painting walls and ceilings and shining and polishing. The Great Hall, spanning 150,000 square feet, was designed to compete with the world's most high-end and high-tech terminals, thereby reflecting the city itself as the "front door" to America.
"In my travels, I heard more than once that LAX had the worst passenger experience of any airport in a modern city," said outgoing Los Angeles Mayor Antonio Villaraigosa. "Well, that's the old LAX. This beautiful new facility will be the first experience visitors have of Los Angeles; people are going to know that we've gone from the worst to the best. It's truly the first and last impression nine million travelers have of Los Angeles every year. It gives travelers the first-class airport experience they expect from a world-class city like Los Angeles."
The new TBIT, designed and constructed by Walsh Austin Joint Venture (i.e. who also designed the new Inchon International Airport in Seoul, South Korea, and the new Raleigh-Durham Airport in North Carolina) may create some 2,000 permanent concession jobs in some of the finest retail and restaurant outlets any luxury shopping district could offer. The duty-free stores (valued at $25 million alone) remind you of a stroll along Rodeo Drive, offering Christian Dior, Van Cleef & Arpels and Estee Lauder perfumes, to Louis Vuitton handbags and Prada shoes. Even Bvlgari jewelry, Victoria's Secret and Hugo Boss are there to encourage the international clientele to return home with a bit of the Los Angeles lifestyle.
There's more. With Los Angeles famous for its international cuisine, just about every type of dining experience—from Japanese sushi to Brazilian barbecue—can be found among the 60 upscale retail and dining outlets (including 22 local brands) at the Great Hall (officially Antonio Villaraigosa Pavilion). Westfield, famous for its shopping malls, will manage the terminal which, beside its luxury dining, adds "health-smart" and fast food outlets.
The ceiling soars to 110 feet, framing huge glass walls that provide unobstructed views of the airport. High-tech video displays (called "Responsive Media") provide a digital glimpse and an accompanying audio sound from faraway destinations such as Bejiing; Santiago, Chile; London or Sidney). Pubs, bars and even wine cellars rival the best five-star hotels.