Weight-loss surgery seems to beat diet and exercise
Study finds surgery more effective at least two years out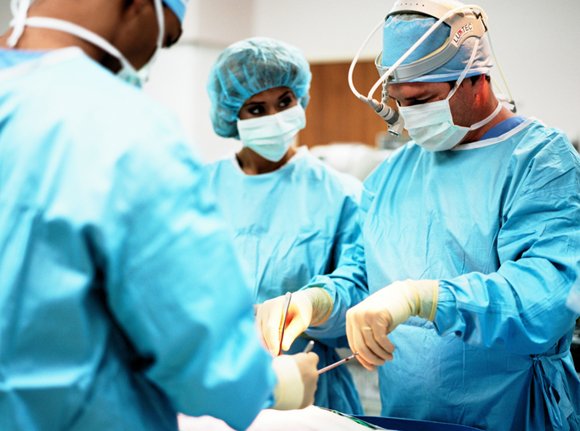 For people who have a lot of weight to lose, weight-loss surgery appears more effective than diet and exercise, a new review suggests.
The one caveat to this study, however, is that the results only include two years of data, so the long-term outcomes are still unknown. This type of study, called a meta-analysis, attempts to uncover a common thread in a number of previous studies.
"Individuals allocated to bariatric surgery lost more body weight — on average 26 kilograms [57.3 pounds] — compared with nonsurgical treatment, and had higher remission rates of type 2 diabetes and metabolic syndrome," said study author Viktoria Gloy, a scientist at the Basel Institute for Clinical Epidemiology and Biostatistics at University Hospital Basel in Switzerland. Metabolic syndrome is a group of symptoms that increase the risk for type 2 diabetes and heart disease.
"After surgery, patients also reported greater improvements in quality-of-life measures, and had greater reduction in medication use than nonsurgical patients," Gloy added.
Gloy and colleagues published the findings online Oct. 22 in the BMJ.
Obesity is a significant public health risk, according to background information in the report. The incidence of obesity has more than doubled over the past 25 years in the United States, the United Kingdom and in Australia. More than two-thirds of the U.S. population is currently overweight or obese. Many European countries aren't far behind, with overweight and obesity rates of around 40 percent to 50 percent, according to researchers.
Obesity increases the risk of many serious ailments, including type 2 diabetes, high blood pressure, high cholesterol, cardiovascular disease, some types of cancer and musculoskeletal diseases such as osteoarthritis, according to the analysis.
Treatments for obesity include weight-loss surgery and nonsurgical options, such as changes in diet, medications, and increasing physical activity.
To see what treatments help people lose weight and improve their health the most, Gloy and her colleagues reviewed previously completed studies on weight loss, and found 11 studies with nearly 800 people who'd undergone weight-loss surgery or nonsurgical weight-loss treatments.
In addition to losing more weight, those who had weight-loss surgery had a rate of remission of type 2 diabetes that was 22 times higher than in the group that did not get surgery. Rates of metabolic syndrome also dropped more for those who had surgery, according to the analysis.
Triglycerides, a type of blood fat, dropped more, and levels of the good cholesterol (HDL) increased more for those who had surgery.
There were no significant differences in blood pressure levels and bad cholesterol (LDL) levels between the two groups, the investigators found.
"The evidence beyond two years of follow-up, in particular adverse events, cardiovascular diseases and mortality, remains unclear and calls for further research on the topic," noted Gloy.
Dr. Joel Zonszein, director of the clinical diabetes center at Montefiore Medical Center in New York City, said: "Weight gain is very easy, but to lose weight is very difficult. This was a careful meta-analysis, and I agree with what they've found. We don't yet understand exactly how bariatric surgeries cause remission of type 2 diabetes," he pointed out.