Appetites, ingredients change with the seasons
Butternut squash and linguine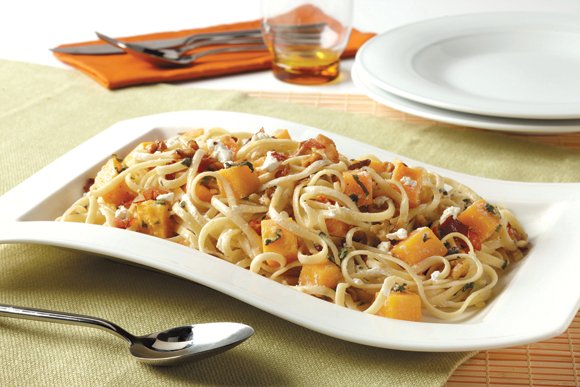 Just as our wardrobe adjusts to the cooler weather, so, too, do our appetites as we enjoy warm, comforting dishes to stave off the chill in the air.
Butternut squash and linguine is one of those perfect transition dishes that showcase the best of the season's offerings. Winter squash of all descriptions are showing up at farmers markets and in grocery store produce aisles now. Butternut squash is one of the most readily recognizable choices, with its distinctive pear shape. Inside is a flavorful, nutrient-rich, yellow-orange flesh that has a subtle sweetness when cooked.
To prepare this recipe, pieces of the squash are simmered with wine and garlic until tender, then a sprinkling of sage is stirred in. A quick toss with Dreamfields linguine and crumbled goat cheese or blue cheese results in a mouthwatering mélange of flavors. For an extra special finish, sprinkle with crisp-cooked prosciutto and chopped walnuts. Either way, it makes a delicious main dish, or a side for poultry or pork.
Just as you shop for the best produce, think about the pasta you purchase, too. Dreamfields pasta is made with durum wheat semolina just like traditional pasta but with 5 grams of fiber (about the same as whole wheat pasta) and 7 grams of protein per serving. It also produces a lower blood sugar response when compared with traditional pasta, making it a healthful choice for the entire family. To learn more about Dreamfields and for additional recipes visit www.dreamfieldsfoods.com.
Butternut Squash & Linguine
Servings: 4-6, preparation time: 20 minutes, cook time: 22 minutes
1/2 box Dreamfields Linguine
2 teaspoons olive oil
1 tablespoon minced garlic
4 cups butternut squash pieces (about 1-inch pieces)
1/2 cup dry white wine or reduced-sodium, fat free chicken broth
1/4 teaspoon salt
1/4 cup chopped fresh sage or 4 teaspoons dried sage
1/4 cup crumbled goat cheese, blue cheese or shredded Parmesan cheese
Crumbled cooked prosciutto or bacon, optional
Additional cheese, optional
Toasted chopped walnuts, optional
Cook pasta according to package directions. Drain and return to pan; cover and keep warm.
Meanwhile, heat olive oil in large nonstick skillet over medium heat until hot. Add garlic; cook and stir until fragrant, about 1 minute. Stir in squash, wine and salt. Simmer 12 to 15 minutes just until squash is tender, stirring occasionally. Stir in sage.
Toss squash with pasta and cheese. Sprinkle with prosciutto, additional cheese and walnuts, if desired.
Nutrition information (1/4 of recipe): 304 calories; 9 g protein; 52 g carbohydrates; 6 g total fat; 2 g saturated fat; 7 mg cholesterol; 213 mg sodium; 7 g total dietary fiber.