Community colleges promote Affordable Care Act for students
Former Laker Michael Cooper helps spread the word
By Jason Lewis | 3/6/2014, midnight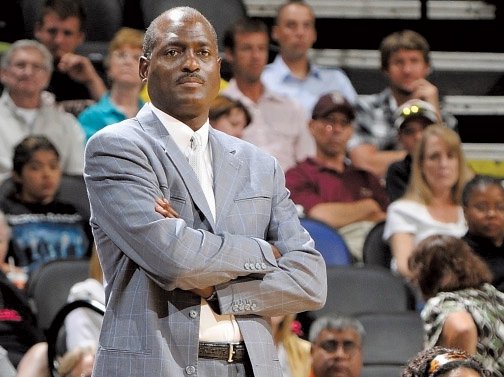 For many young adults who are not established in their career field, especially college students, health insurance can be hard to obtain. In the past young adults have felt priced out of medical care, but the Affordable Care Act is changing that. The Los Angeles Community College District (LACCD) has been working to get the word out about health insurance to their students through their Cover LACCD program.

"We want to make sure that all of our students understand that these are historic times," said Yasmin J. Delahoussaye, Los Angeles Southwest College Interim President. "I never thought that in my lifetime, that I would see public coverage in the United States."
Delahoussaye addressed students at Southwest College in a program that featured Los Angeles Lakers great Michael Cooper. She shared a personal story of when she was diagnosed with breast cancer in 2005. She was on a television show to talk about the ailment with three other women who also had breast cancer. Three of the women, including herself, had health coverage through their jobs, but the fourth did not. The one who did not passed away.
"It was really sad, and the only difference between me and her, was that I had heathcare coverage, but she did not," Delahoussaye said.

She also pointed out that a very low percentage of community college students have health coverage through their jobs.
"We want to make sure that we create a culture of coverage at Southwest College," Delahoussaye said.
Cooper also shared a personal story about people who did not have proper healthcare.
"I had three aunts, and they were obese," Cooper said. "They were there to watch me play in high school. They were there to watch me play in junior college. They were there to watch me go on and have a great career at the University of New Mexico. They were there for five of my 12 NBA years. And then all of a sudden, all of the things that they were eating, not having good healthcare, and not taking care of themselves, or going to the doctor and getting checkups...they started falling apart. And one by one I watched them die because of diabetes. They were getting their ankle cut off, or their knee cut off, and my last aunt said 'no more cutting, just let it go the way that it's going to go.' They all died, and they did not have the opportunity to see me be a productive man in society, or see my kids grow up."
As part of Cover LACCD, a certified enrollment counselor was on hand to inform the students about the importance of healthcare, and to enroll them in health insurance.

"It is important to enroll for heath insurance, because as it has been stressed, there will be a fine," said Covered California enrollment councilor Charla Franklin. "But beyond money, there are other repercussions. You have the opportunity now, for the first time ever, to be responsible for your health care. Take care of your health, be proactive instead of reactive, and long gone are the days where you can walk into the emergency room without healthcare. If you do that, you will receive a bill, and they will collect it, one way or another."
Franklin also dispelled certain misconceptions of the Affordable Care Act.
"This is traditional health insurance," Franklin said. "Our president (Barack Obama) has made arrangements for it to be subsidized so that you can have health insurance. You choose your provider, you choose your doctor, you choose your services. You do not have to walk into the clinic and wait forever, and take whatever, or whoever. It is wonderful, and do not pass up on this opportunity."
In the past it has been a major financial strain on young adults to obtain health insurance, which is vital to anybody. But now it is affordable, and it is important that people are informed about that.