Lancaster Grand Prix promises downtown thrills and excitement
Annual event attracts thousands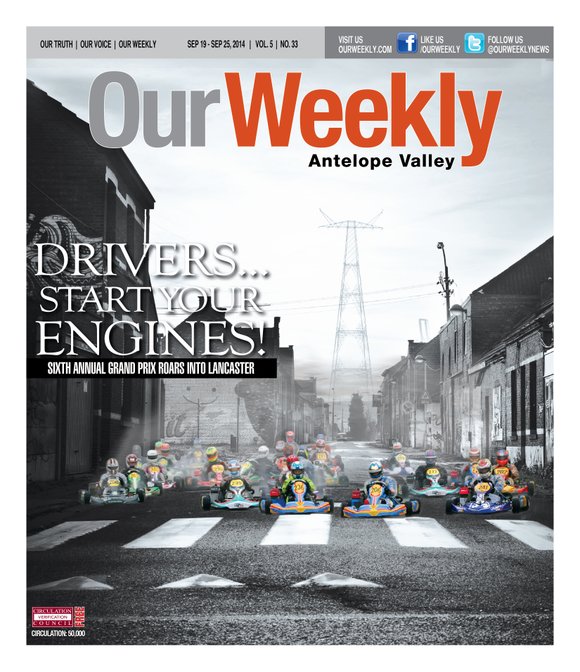 Lancaster will be roaring and revving with high-powered excitement Sept. 26-28 as the sixth annual Streets of Lancaster Grand Prix winds its way through downtown. Each autumn, Lancaster hosts one of the west coast's largest and most prestigious professional KART street races. The event draws hundreds of North America's elite drivers, all vying for the title of "fastest street course racer."
The Streets of Lancaster is largely funded by sponsorship from local businesses and organizations. Tens of thousands of spectators have attended past races, and organizers expect to see even more racing enthusiasts this year. Traffic will be cordoned off along all streets in the vicinity of downtown Lancaster.
"The Streets of Lancaster is one of my favorite events," said Lancaster Mayor R. Rex Parris. "The competitive community races combined with electrifying high-speed professional races make this event truly entertaining on multiple levels. However, nothing compares to the feeling of seeing thousands of families, friends and neighbors from all over the Valley gather here in downtown Lancaster. This is what community is all about."
The road race will be held in conjunction with a street fair and festival on both days. Saturday's lineup will also include a "cruise-in" car show; a classic car show and live entertainment. Past sponsors of the race have included the City of Lancaster, Lancaster Honda, AV Web Designs, Andy Gump, American Medical Response, Re/Max Realty, Antelope Valley Harley Davidson, Antelope Valley Transit Authority, Antelope Valley Press, Bex Bar and Grill, Time Warner Cable, Sun Power Corporation, Edwards Federal Credit Union, Sierra Toyota/Scion and Valleywide Dental. A VIP race event will allow sponsors to enter the competition with their own driver.
"The Streets of Lancaster Grand Prix is a tremendous partnership opportunity for any product or service," said Ronda Perez, director of Lancaster Department of Parks, Recreation and Arts. "The event offers the ability for sponsors to align their brand with one of the west coast's premier KART racing events. Imagine yourself racing the streets of downtown Lancaster in a KART covered in your company's custom brand and image, all while supporting one of the Antelope Valley's most anticipated fall events."
The route will travel primarily along Lancaster Boulevard east to Elm/Ehrlich Avenue, then west to Date Avenue, and north back to Lancaster Boulevard. Practice runs and qualifying will take place along the official race route.
A media challenge race will be broadcast live on the first morning. Local corporations and firms will also have the opportunity to compete that day in the annual Corporate Challenge. Qualifying sessions will begin on Saturday morning, as will the opening ceremonies, followed by the Mayor's Gold Cup race, the Gun and Horses Race and the VIP BLVD Champ Series. Although racing will take place in various formats throughout the weekend, Sunday is the big day for the professionals. Closing ceremonies will begin not long after the winners are announced. Street entertainment, the classic car show (Saturday only), music and special race exhibits will take place from noon to 9 p.m. on Friday and from noon to 4 p.m. on Saturday.