The business of Black media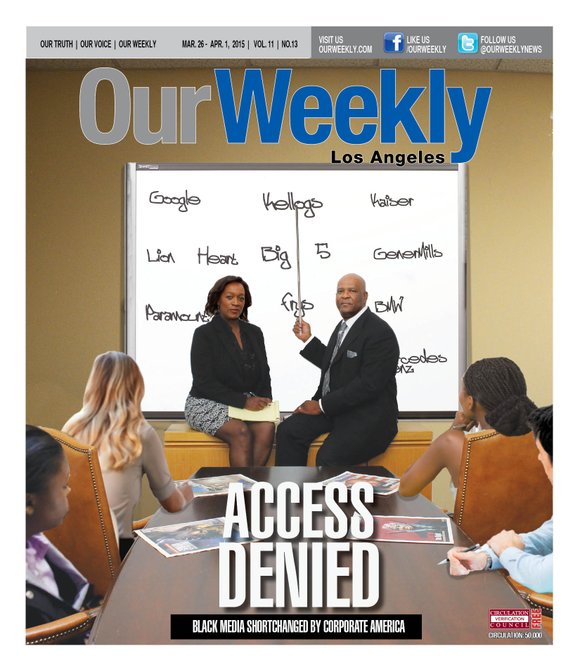 While most people who think about Black media consider its historic role as a leader and purveyor of the needs, wants and desires of the African American community, those same people sometimes forget that at the very foundation of newspapers, magazines, radio and television stations owned by African-descended people are some fundamentals—these entities are businesses that in order to exist, must make money.
For years, this has been the struggle with Black media which often seems to be left out of the loop when it comes to advertising. This is despite the studies that highlight the wealth in the Black community and aside from the well-known fact that Black people utilize Black media.
According to a recent Nielsen study, African Americans represent about 14.4 percent of the nation's population, yet only 2.6 percent of the major media advertising is spent on African American media. In numbers, the Neilsen report noted that advertisers allot only 3 percent of their $2.2 billion yearly budget to media aimed at Black audiences, despite the fact that according to "The State of the African-American Consumer Report" Black buying power in America is expected to hit $1.1 trillion this year.
The Nielsen Company also teamed up with the National Newspaper Publishers Association (NNPA), a trade group representing 200 Black community newspapers, for the third consecutive year to produce the report, "Resilient, Receptive and Relevant: The African American Consumer 2013," which noted that the buying power of Blacks likely will increase from its current level to $1.3 trillion by 2017.
And yet, even with these projections, Black media does not garner a fair share of corporate ad spending, but instead is circumvented for ad buys in general market media channels.
There are other indicators that point even more clearly to the problem.
Take a legal action launched recently by comedian-turned-media-mogul Bryon Allen. He recently filed a $20 billion lawsuit on behalf of his company, Entertainment Studios, against Comcast, Al Sharpton and Time Warner Cable.
Allen joined with the National Association of African-American Owned Media (NAAAOM) for the action, in which he accuses corporate America and these three companies [Comcast, Time Warner and AT&T], in specific, of paying off civil rights activist Al Sharpton as well as other organizations to sign-off on their diversity spending efforts. He has also filed a $10 million lawsuit against AT&T.
The entrepreneur is also suing former FCC commissioner Meredith Attwell Baker and pointed out that months after she voted to approve a merger, she took a high-paying job with Comcast. He wants the lawsuit to turn the spotlight on how this happened.
In a broadcast report on CNN, Allen accused the corporations of giving money to Sharpton to avoid having to support the broader Black press.
"This is a historic lawsuit," said Allen. "It's about economic inclusion . . . We don't need charity. We don't need people speaking for us. Just do business with us."
According to Allen, there are numerous people who have gone to Comcast looking to start up a cable channel but they have essentially told these individuals to go away. The Los Angeles media entrepreneur said he has seven cable networks on Verizon. He also noted that the Black Family Channel was turned away from Comcast and told it would have to pay $10 million to be part of the cable station's platform.