Black online entrepreneurs say tech is the way of the future
By Manny Otiko OW Contributor | 4/9/2015, midnight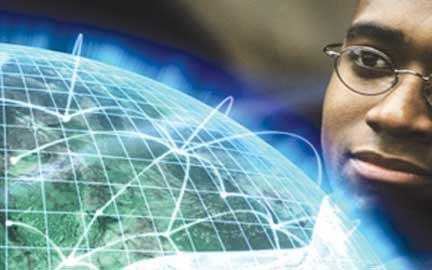 When most people think of the technology field, they think of White computer "whiz kids" like Facebook founder Mark Zuckerberg. However, African American entrepreneurs have founded technology-related companies. Many of them are attracted to the independence of running their own businesses and the low-cost of starting an Internet-based company.
Ayinde Alakoye is one of those entrepreneurs. A Los Angeles resident, Alakoye is the founder of Hitch Radio, a company that has produced an app that allows people to share their favorite radio stations. Alakoye was also involved in a company called Thumb Radio, which eventually developed into iHeartRadio, an app that allows users to listen to radio stations on their mobile devices.
Alakoye said he was once a leading radio advertising salesman, but grew dissatisfied with that career.
"I didn't believe I was living the life I was born to lead," he said, "I quit my job in 2002 and never really looked back. I didn't know what it was to be a business owner, but I knew what it was to be an office worker, and I didn't want that life for myself anymore."
Alakoye said Hitch Radio adds the power of social media to the radio format.

"There are 4.2 billion global terrestrial radio listeners," Alakoye said. "Currently, they have no way to instantly share what they are listening to with their friends and family. So, we created the world's first instant messaging app for radio."
"We're empowering iPhone and Android users globally to bring any size audience with them to virtually any live radio broadcast in real-time," Alakoye said. "We believe it represents a change in the way music and information are distributed."
Hitch Radio users can share content with their friends with a "tap." This allows people to follow their friends' tastes in radio stations across the world. Alakoye said Hitch Radio targets 13-29 year olds and works with 20,000 stations. The company brings in revenue from advertisers.
While Hitch Radio targets online radio, Donny Gamble's website, Personalincome.org., provides financial advice and resources. Gamble, a San Diego resident, started the company in 2013, and last year it grossed $120,000. The company's revenue comes from sales lead generation and commissions.

"My company is Personalincome.org, which is a financial website that provides information, guides, and resources that help individuals bridge the information gap that exists between the middle class and the wealthy," Gamble said. "We discuss alternative strategies in regards to investing, retirement and building wealth.
"My ideal customer is a middle-class business owner, entrepreneur or retiree, who is in search of investing or retirement information that a financial advisor won't provide because it is not in their best interest to recommend these types of investing vehicles," he said.
Gamble decided to plunge into the Internet business after he saw he was spending a lot of time online and wanted to make money with his hobby.
"My journey started as a freshman in college when I was on the Internet so much and figured that there had to be a way I could make money from being online so much," Gamble said. "So I applied to an Internet startup called Realestateinvestor.com. I immediately fell in love with the idea of making money online. I continued to learn more about the industry by doing consulting for other companies and launching my own online businesses."