Top jazz artists will appear May 9 at Lancaster City Park
Presented by Marco and Sandra Johnson Foundation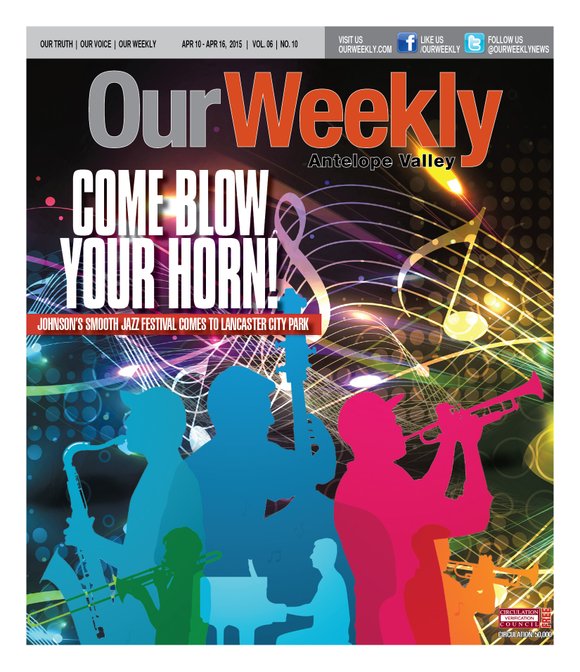 The best in jazz is on tap May 9 as some of the recording industry's most popular artists take the stage at the Johnson's Smooth Jazz Festival. Presented by the Marco and Sandra Johnson Foundation, the festival will take place at Lancaster City Park and is being touted as a "Mother's Day" event.
Lancaster resident Sandra Johnson and John Mann will serve as a co-host, along with Pat Prescott and Greg Mack of 94.7 The Wave.
Featured artists will include Gerald Albright, Bobby Caldwell, the Jeanette Harris Band and Nils. Gates will open at 1 p.m. with the main show beginning at 5 p.m. Organizers suggest patrons bring lawn chairs, blankets and dress in comfortable attire. There is reserved seating for $75. Front lawn seats are $55 each, and rear lawn seating is priced at $40.
Gerald Albright
Albright is one of the most prolific artists on the contemporary jazz scene. The Los Angeles native began taking piano lessons at an early age, but his love of music is said to have picked up considerably when he was given a saxophone.
By his freshman year at the University of Redlands, Albright had already become a polished saxophonist. After seeing Los Angeles native Louis Johnson ("Brothers Johnson") perform in concert, Albright decided to take up the bass guitar. Shortly after graduating from college, Albright connected with yet another noted Los Angeles name and a schoolmate—Patrice Rushen—who was in the process of forming her own band. She eventually replaced her bass player on tour with Albright.
During the 1980s, Albright became a highly requested session musician, playing on albums from a wide variety of artists including Anita Baker, Ray Parker Jr., Lola Folana, Atlantic Starr, Olivia Newton-John, the Temptations and Maurice White. He has toured extensively with Les McCann, Jeff Lorber, Teena Marie, the Winans, Marlena Shaw, Quincy Jones and Whitney Houston.
Albright has recorded a number of solo albums for Atlantic Records, with two hitting the number-one spot on Billboard's Top Contemporary Jazz Chart and each nominated for a Grammy Award in 1989 and in 1990.
In 1998, Albright and Phil Collins toured together and later the two recorded one of Albright's tunes, "Chips 'N Salsa" on Collin's Big Band Project entitled "A Hot Night in Paris. "Also that year, Albright released "Pleasures of the Night" with Will Downing on Verve Forecast, which hit No. 1 on Billboard's Top Contemporary Jazz Albums chart.
Albright released "Pushing the Envelope" in 2010 on Heads Up International Records. This album was said to be a showcase for Albright's balance of songcraft and musicianship, and featured special guest appearances by trombonist Fred Wesley (James Brown and the JB's) Earl Klugh on guitar and George Duke on keyboards. Other popular albums by Albright include "24/7" from 2012 and "Slam Dunk" from 2014. "Slam Dunk" includes versions of Phil Collins' "True Colors" and James Brown's "It's a Man's World" with a special appearance by Peabo Bryson.
Bobby Caldwell
Bobby Caldwell may be considered one of the masters of both Soul and Jazz. His most famous song, "What You Won't Do For Love" from 1978 remains a standard on today's "soft rock" radio stations. The song has reportedly been recorded and sampled by more than 100 artists, including a rendition by Boys II Men.