Climate change may foretell precarious future for LA County
Officials predict more allergens, vector diseases and wildfires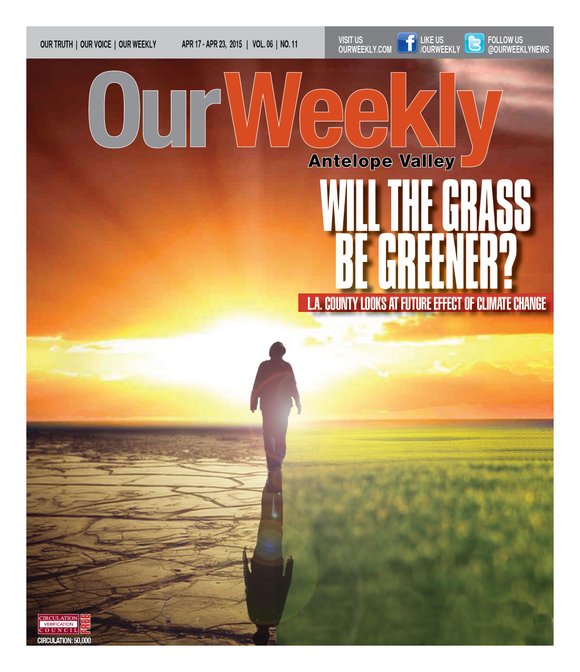 Los Angeles County has been a travel destination point for millions since its founding 165 years ago. The region has experienced unprecedented population growth and attraced new residents from across the country and from numerous nations to comprise the cultural "melting pot" we witness today. Questions arise, however, regarding the relationship between the historic drought the state is currently in and climate change: "Can the county sustain its reputation for growth and prosperity with a dwindling supply of water?"
Climate change, whatever its cause, is said to affect how we breathe, what we eat and what diseases we are exposed to. Because of the magnitude of rising global temperatures, extreme weather events, ozone concentrations and declining air quality, experts within the community of natural sciences contend that global warming may have a significant effect on the quality of life for residents of Los Angeles County. Everything from air pollution, allergens, wildfires, disease carried by insects and food production have become causes of concern for the estimated 10.12 million persons living in the county.
National Public Health Week took place recently and about 1,000 doctors, nurses, researchers and other health professionals from 49 states signed and delivered a letter to President Barack Obama calling on bold action on climate change "The risks climate change poses to public health have been well documented," they wrote; both Physicians for Social Responsibility and the Alliance of Nurses for Healthy Environments endorsed the letter, which continued with dire warnings: "Increased temperatures are spreading tropical diseases to new latitudes. Heat waves will likely cause more deaths across the world. Warmer temperatures and increased prevalence of drought threaten to reduce crop yields and lead to food insecurity and water shortages. And more extreme weather events—coupled with sea-level rise—will threaten low-lying cities globally."
Obama responded to the scientific plea by relating a story about his oldest daughter, Malia, who had to be rushed to the emergency room with an asthma attack when she was a toddler. He also remembered his days as a student at Occidental College, saying he could feel his "lungs burn" after just five minutes of jogging because of heavy smog that was common in L.A. County 30 years ago.
"So the idea here is that by having doctors, nurses, and public health officials who have come together highlighting the consequences of warmer temperatures, not only can communities start thinking about adapting and planning around those issues, but individual families can also recognize that there is a link here, and collectively we can start doing something about it," the president said.
Some areas more vulnerable
California, the world's eighth largest economy, is definitely experiencing climate change. Negative health consequences, many of which may result from higher temperatures and increased smog, have been reported by the Centers for Disease Control and Prevention (CDC) to increase the risk of asthma attacks and can play a large role in the health and welfare of both the youngest and oldest persons and also individuals suffering from chronic illness. The CDC in 2013 listed nine cause-and-effect relationships between climate change and health among them: