Rainbow PUSH, Google address lack of minorities in technology sector
By Manny Otiko OW Contributor
By Manny Otiko OW Contributor | 7/16/2015, midnight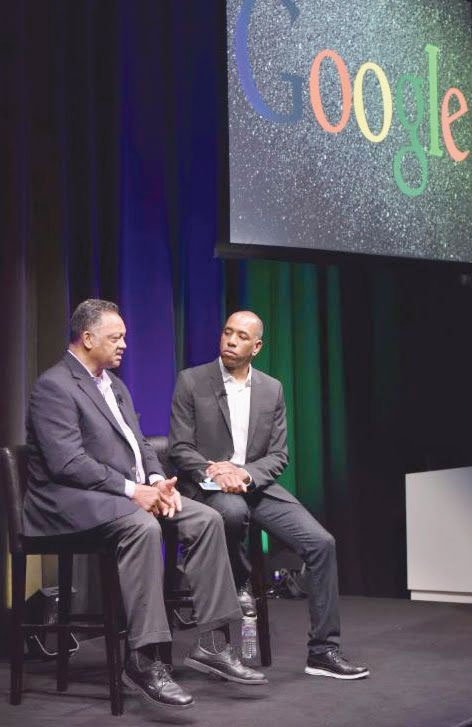 Veteran civil rights campaigner Rev. Jesse Jackson came to Los Angeles last week to raise awareness about the lack of diversity at major technology companies.
Jackson's Rainbow PUSH Coalition partnered with Google to host "Dream Makers, Risk Takers and Money Makers: Diversity and Inclusion in Tech Forum" at Google's Los Angeles headquarters. The forum was designed to highlight the lack of people of color in the tech world and also discuss ways minority groups can break into the industry.
The event included a panel of technology executives who discussed how to increase diversity and innovation in the tech world. The panel included Malik Ducard, global head of Family and Learning, YouTube; Navarrow Wright, founder, The Close the Divide Project; Jamaal Finkley, president, BlackTree TV; Pierre Johnson, executive director, Peggy Beatrice Foundation; Kelly Redmond, executive director, Impact Media and Entertainment Coalition; and Sheila Marmon, founder and CEO, Mirror Digital.
The lack of Black and Brown faces at tech companies is currently a major issue. Facebook has about 1.4 billion users, but half of its U.S. staff is White, according to the company's latest diversity report. While 36 percent of Facebook employees are Asians, Black people make up only 2 percent of their workforce. Other tech giants are not doing much better. Although 27 percent of black adults use Twitter, according to the Pew Research Center, only 49 of the company's 3,000 employees are Black. That works out to less than 2 percent of Twitter's workforce.

Speaking to British newspaper The Guardian, Jackson accused companies like Twitter of taking Black people for granted.
"Black people are greater users of the product and capable of doing the jobs, but there has not been an adequate commitment to hire, train and maintain [Black people]," he said.
Jackson said accessing and using technology was the next stage of the civil rights movement.
"In our current struggle, we are in the fourth stage," Jackson said. "The first stage was slavery, the second was getting rid of Jim Crow laws, the third was access to voting, and now the fourth stage is access to capital, specifically technology and industry. There is some overlap, but fundamentally we are in the fourth stage"
Jackson added technology has given us innovations like social media, which was a great way of democratizing the news, but it shouldn't replace cracking open a book.
"Social media allows those who are tested to be trusted, and it does so with amazing speed that has allowed us to globalize our story," Jackson said. "Social media is not a substitute for reading."
Jackson also challenged Google to partner with black consumers, who love technology.
"Google has something the community needs: advance technology," Jackson said. "The community has something Google needs: market, money, tele-location. Together we can make a great impact. This is the age of advance science technology. We intend to have, in a 1,000 churches, tech centers so that children can do apps and codes and learn financial literacy and stock market gain."
Chris Genteel, head of Diversity Markets and Supplier Diversity, said Google was interested in building partnerships with the black community.
"Google's mission is to organize the world's information and make it accessible. With Rainbow PUSH, our mission is to make that information accessible to all," Genteel said.
Ducard, who had a one-on-one chat with Jackson, said Google and Rainbow PUSH have similar goals.
"It's been really important for Google to partner up with Rainbow PUSH because they have really been a lighthouse, a beacon for change for really expanding diversity in this field and this industry," Ducard said. "One of the pillars that's important for Google is to really expand and increase access to information. And in terms of expanding that information to diverse communities, it only gets better and we are only able to dial up the potency of that mission."
YouTube, which is owned by Google, is now a new media platform allowing artists to bypass record labels and go directly to the consumers. Gospel singer/songwriter Erica Campbell discussed how she's using YouTube to promote her work and connect with her fans.

"Each [YouTube] subscriber is not just a number for me. They are a person who is interested in what I am doing," Campbell said.