A centerpiece for the celebration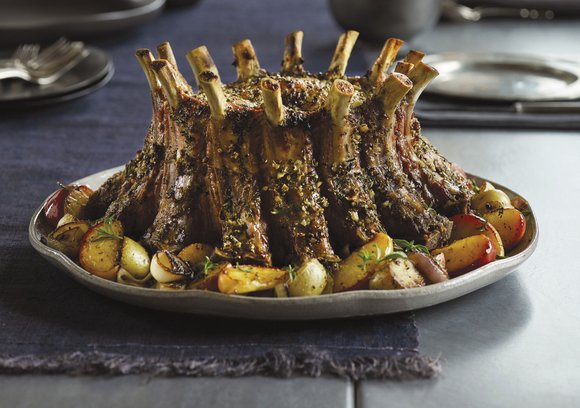 Brush roast with oil; press pepper evenly into surface. Insert ovenproof meat thermometer into thickest part of roast, not resting in fat; center roast on salt layer. Starting at base of roast, pack remaining salt mixture onto sides and top to encase in salt. (Some salt mixture may fall off, exposing small areas of the roast. This will not affect cooking.)
Roast in oven approximately 1 3/4 to 2 hours for medium rare or 2 1/4 to 2 1/2 hours for medium doneness. Use thermometer to verify doneness.
Transfer pan with roast to cooling rack; let stand uncovered 15 minutes. Remove and discard salt crust from roast, brushing off any remaining salt. Carve and serve.
Apricot Ham Glaze
Prep time: 5 minutes
Cook time: 10 minutes
Total time: 15
Serves: 6-8
1/2 cup brown sugar
1 teaspoon corn starch
1/2 teaspoon ground ginger
1 cup canned apricot nectar
In small saucepan, combine brown sugar, corn starch and ginger. Stir in apricot nectar. Cook over medium heat, stirring constantly, until mixture thickens and boils.
Serving suggestion: Brush glaze over whole ham before roasting or over ham steaks while grilling.
Cranberry Orange Ham Glaze
Prep time: 5 minutes
Cook time: 10 minutes
Total time: 15 minutes
Serves: 10-12
1 can (16 ounces) cranberry sauce
1 cup brown sugar
1/2 cup orange juice
1/2 teaspoon cloves, ground
1/4 teaspoon cinnamon, ground
1/4 teaspoon all spice
Place all ingredients in small sauce pan over low heat. Simmer for 5 minutes, then serve.
How to Handle Frozen Meat
Working with frozen meat from a quality supplier not only ensures top-notch quality for your holiday dinner, it adds convenience during a busy time of year. Follow this advice from the experts at Omaha Steaks to handle your frozen meats with care.
For meats that have been vacuum sealed in plastic wrap, store in a freezer for up to three months.

For best results, thaw in the refrigerator to allow for juicier, more flavorful steaks. Always leave the wrapper on while thawing. Use these approximate guidelines for thawing in a refrigerator set to 36-40 F:
Large roast: 4 to 7 hours per pound
Small roast: 3 to 5 hours per pound
Steak (1-inch): 12 to 14 hours
Whole turkey: 1 day per 4 to 5 pounds
Poultry parts: 1 day per 1 to 2 pounds
For quick, safe thawing place meat in cold water while still in its wrapper.