Feed your fitness
Cedar plank grilled salmon with sweet potatoes and more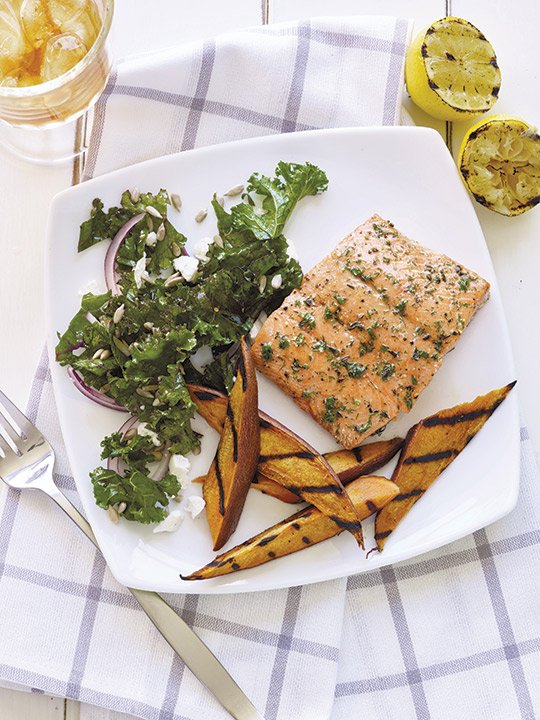 Whether you're a competitive sprinter chasing a new record or an everyday gym hound looking to get the most from your workout, seafood is among the best foods to support an athletic lifestyle. It not only delivers great-tasting nutrition, but also provides one-of-a-kind health benefits.
The combination of lean protein, anti-inflammatory omega-3s and muscle-building nutrients found in Alaska seafood are why it's a staple for athletes like Ryan and Sara Hall.
"We like to incorporate Alaska seafood in our daily diet because it's a really high-quality protein that helps to repair our muscles on a daily basis," said Ryan Hall, a two-time Olympian and holder of the U.S. half-marathon record.
After a run, Sara Hall—a 3,000-meter steeplechase and marathon runner, U.S. national champion and World Team member—relies on seafood as a go-to for low-fat meals with protein and simple-to-digest carbs.
Sample these dishes straight from the Hall kitchen, and find more recipes and nutritional values for your favorite seafood at wildalaskaseafood.com.
Cedar plank grilled salmon with sweet potatoes
Serves: 4
Prep time: 10 minutes
Cook time: 15 minutes



Cedar planks with enough surface area for
salmon
Alaska salmon fillets (4-6 ounces each),
fresh, thawed or frozen
olive oil spray
1 tablespoon fresh (or 1 teaspoon dried) dill,
thyme or rosemary
salt and freshly cracked pepper, to taste
4 large sweet potatoes, sliced lengthwise
into wedges
1/2 tablespoon ground cumin
Soak cedar planks for 1-2 hours (or overnight) submerged in water. Remove and pat dry.
Warm grill to medium heat (400 F). If frozen, rinse ice from salmon under cold water; pat dry with paper towel. Spray cedar planks and salmon with olive oil spray. Place salmon on planks; sprinkle with herb, salt and pepper. Place sweet potatoes in bowl; spray with cooking spray. Sprinkle with cumin and salt and pepper to taste. Toss to coat.
Place cedar planks and potato wedges on grill. Cover and cook about 3-4 minutes; turn wedges over and continue cooking until potatoes are soft and cooked. Keep warm. Cook salmon 12-15 minutes, until fish is opaque throughout.
Nutritional information per serving: 350 calories; 11 g total fat; 2 g saturated fat; 27% calories from fat; 91 mg cholesterol; 33 g protein; 33 g carbohydrate; 4 g fiber; 277 mg sodium; 36 mg calcium; 1,700 mg omega-3 fatty acids.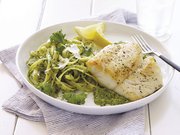 Pan-seared cod over minted pea puree
Serves: 4
Prep time: 15 minutes
Cook time: 10 minutes
1/2 cup water
2 pounds frozen or fresh peas, blanched
1 package (0.6-0.7 ounces) fresh mint,
leaves only
salt, to taste
4 Alaska cod fillets (4-6 ounces each), fresh,
frozen or thawed
olive oil
1 teaspoon lemon pepper seasoning
Add water, peas and mint to blender or food processor; season with salt. Puree until almost smooth. Cover and keep warm.
If frozen, rinse ice glaze from cod under cold water; pat dry with paper towel. Heat heavy, nonstick skillet over medium-high heat. Brush both sides of fillets with olive oil.
In heated skillet, cook cod, uncovered, about 3-4 minutes, until browned. Shake pan occasionally to keep fish from sticking. Turn cod over and sprinkle with lemon pepper seasoning. Cover pan tightly and reduce heat to medium. Cook an additional 6-9 minutes for frozen cod or 3-4 minutes for fresh/thawed fish. Cook until fish is opaque throughout.