Winter Weather Warm-Up
Sweaters and scarves aren't the only ways to brace yourself against blustery weather. There's no time like winter to putter in the kitchen, where the cozy heat from the stove and the aromas of mouthwatering dishes can warm you from the inside out.
Rich, hearty stews and creamy casseroles are perfect for winter dinners, but when you're craving something other than traditional comfort food, there are plenty of other options that will chase away the chill, such as a glass of Pinot Noir.
These three dishes feature common proteins - chicken, beef and fish - in preparations that make it easy to reimagine your winter weather menu. Find more recipes and ideas for warming up this winter at culinary.net.
Fruit Juice and Fish Fillets
The temperatures may be falling, but you can still fire up the grill and fill up your plate with a tasty recipe like this Grilled Citrus Rosemary Catfish, which combines sweet juices for a citrus sauce that coats grilled catfish. Find more main dish recipes including catfish at uscatfish.com.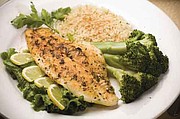 Grilled Citrus Rosemary Catfish
Recipe courtesy of The Catfish Institute
Servings: 4
Citrus Sauce:
1 lime, juice and zest only
1 lemon, zest only
1 orange, zest only
6 ounces pineapple juice
1/2 cup brown sugar
1 tablespoon fresh rosemary, chopped
1/4 teaspoon salt
Catfish:
4 U.S. farm-raised catfish fillets
2 lemons
salt, to taste
freshly ground black pepper, to taste
Heat grill.
To make citrus sauce: In small saucepan, combine all sauce ingredients. Bring to boil; reduce heat and simmer 5 minutes.
To make catfish: Place catfish in shallow dish and squeeze 1/2 fresh lemon over each fillet. Sprinkle with salt and pepper. Let rest 5 minutes.
Grill catfish fillets, skin-side-up, 3-4 minutes. Flip over and grill 2-3 more minutes.
Transfer catfish to serving plates and spoon warmed citrus sauce over fillets.
A Cold-Weather Solution
While it can be a challenge, there are several ways to pair food and wine appropriately during winter, despite bitter weather. A warm, comforting dish, like Roasted Chicken with Salsa Verde from James Beard award-winning chef Jonathan Waxman, combines well with rosé during the cold season. One reasonably priced wine that matches chicken well is Angeline California Rosé of Pinot Noir. The crisp flavors of light red fruits combine with the herbs accompanying the chicken. It'll also complement the many other flavors of winter, when an array of dishes hit the table and challenge hosts to find the right wine to serve.
For more wines that work well in wintertime, visit angelinewinery.com.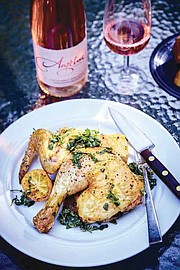 Chicken and Salsa Verde
Recipe courtesy of chef Jonathan Waxman
Chicken:
1 fresh free-range organic chicken (4
pounds)
sea salt, to taste
freshly ground black pepper, to taste
1/4 cup extra-virgin olive oil
1 lemon
Salsa Verde:
1/4 cup capers in salt
4 anchovy filets
3 cloves garlic
1/2 cup chopped fresh parsley
1/2 cup chopped arugula
1/2 cup chopped fresh basil
1/2 cup chopped fresh cilantro
1/4 cup chopped tarragon
1/4 cup chopped fresh chives
1/4 cup chopped fresh sage