You can put Trump in the White House
jason Lewis | OW Contributor | 3/10/2016, midnight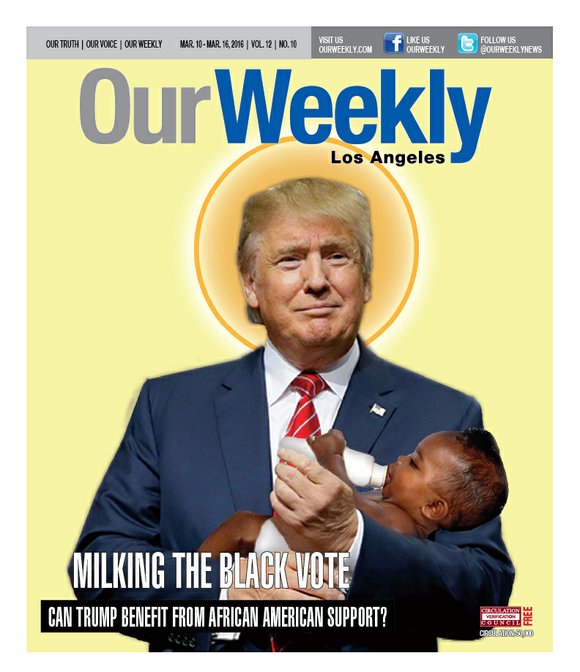 Black people have generally voted Democrat since the 1930s, which should benefit Hillary Clinton or Bernie Sanders in the general election, if tradition holds true. But if Donald Trump wins the Republican nomination, it could be the Black vote that puts him into the White House.
Trump will not need the majority of Blacks to vote for him, and political pundits say it would be farfetched to believe that he would get anywhere near the majority.
There is no question that Trump has captured the attention of Black communities throughout this country. With his business knowledge and promise of more jobs for all Americans, some believe that he could sway enough Black voters to give himself an advantage over his competition.

While Trump continues to kick Black protesters out of his rallies, be involved in issues with the Klu Klux Clan, and give speeches that continue to pit Blacks vs. Whites in racially charged rallies across the nation, he may come to rely on the few Black votes that he can muster up to win the election in November.

Trump has been spreading the message that he has Black support. In fact, he a recent poll showed that 25 percent of Black people support him in a hypothetical race against Clinton. But that poll was from September, and more recent polls are dramatically different.

In a Gallup poll, Trump is the most unfavorable GOP presidential candidate among Black adults. Sixty-eight percent found him unfavorable. The only other candidate who received more than 50 percent of the vote was Jeb Bush. In comparison, Hillary Clinton was unfavorable by only 12 percent of Black adults, and Bernie Sanders gained a 10 percent unfavorable rating. No Democratic candidate received more than 13 percent. The lowest score in that category for the GOP presidential candidates was John Kasich, who received a 15 percent unfavorable mark, followed by Ben Carson at 18 percent.
Trump said that his plans to improve the economy for Black Americans is why he is leading in the polls with African American voters. But a poll from Quinnipiac University shows that 92 percent of Black people thought that the real estate mogul did not care about their needs and problems. Seventy-three percent of Blacks also said that Trump is not trustworthy.
The poll also asked if Black people would vote for Clinton or Trump if the two made it to the general election. Only three percent said that they would choose Trump.

In the 2008 and 2012 elections respectively, former governor Mitt Romney received six percent of the Black vote, and John McCain four percent. However both lost to Obama.

Republican President Gerald Ford won the largest percentage of the Black vote in modern history with 16 percent, but he still lost to Democratic challenger Jimmy Carter.

While many people, including Blacks, have tuned in at record numbers to hear Trump speak, his viewpoints may be turning many Black voters off, if you look at the polls. This may very well lead to the question: Is he really making any effort to win the Black vote?