Lend a helping ham
A full, delicious menu with sides and snacks
Preparing the perfect ham for all of your holiday guests to share can feel like a lot of pressure, but complementing the main dish with sides, snacks and desserts can help take a bite out of that overwhelming feeling.
To help fill out your dinner table this holiday season, start with a crowd-pleasing appetizer like bacon and cheddar ranch dip that can ease everyone into the meal. Serve up a tasty side, such as balsamic glazed roasted root vegetables, so that the ham doesn't stand alone. Then, just as dinner's grasp wears away, treat your guests to white chocolate peppermint popcorn bark as a delightful holiday sendoff.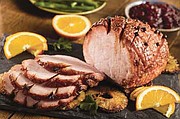 The perfect piece of pork
To make sure the main course this holiday season—a yummy, juicy ham—is cooked and prepared to perfection, there are some simple steps to follow.
Thaw it
While ham can be cooked without thawing, for best results the first step to a tasty ham is properly thawing it in either the refrigerator or cold water. Never thaw a ham on the counter, as it can become subject to bacterial growth when the outside warms but the inside remains frozen. Remember: The larger the ham, the longer it needs to thaw before cooking.
Bake it
Once the ham is properly thawed, start by heating your oven to 325 F and lining a roasting pan with aluminum foil. You'll want to cook the ham low and slow to avoid drying it out, and lining the pan helps limit the mess. As it bakes, don't forget to flip it over about halfway through the process.
Check it
When the ham gets close to being done cooking, take the safe route and check its temperature. The USDA recommends bringing pork to 145 F to help ensure it's cooked thoroughly.
Finish it
After pulling the ham from the oven, let it rest 15 minutes before slicing. Because the ham will continue baking outside the oven for a short period, allowing it to rest holds in those delicious juices. If you're looking for a different way to please your guests' palates, try glazing it with different mixtures that could include anything from brown sugar to fruit juices.
A dozen ways to dip
Liven up the party platter by transforming traditional ranch dressing into crowd-pleasing dips, just by adding a few simple ingredients. Litehouse Homestyle Ranch Dressing is a versatile base that can be mixed with anything from sriracha to basil and Parmesan cheese to create dips that pair perfectly with fresh-cut vegetables, crackers, bread and more.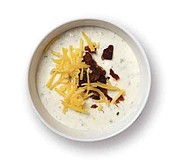 Bacon and cheddar ranch dip
1 cup Litehouse Homestyle Ranch Dressing
chopped bacon, to taste
shredded cheddar cheese, to taste
assorted dippers
Combine ranch dressing with chopped bacon and shredded cheddar cheese, to taste.
Serve immediately with assorted dippers.
Variations: To achieve different flavored dips, use any of the following mix-ins in place of bacon and cheddar cheese:
— Avocado
— Basil and Parmesan cheese
— Sriracha
— Barbecue sauce
— Dill pickles
— Chili pepper and lime