City homeless measure tops local ballot choices on Nov. 8
Would provide more affordable housing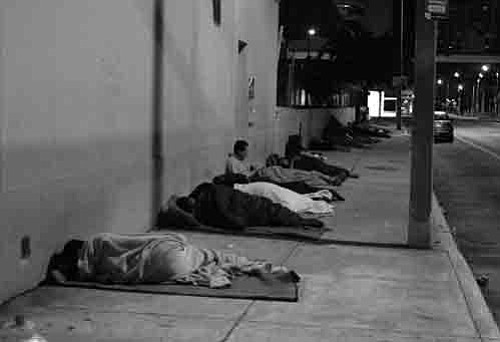 Several city of Los Angeles ballot measures will be considered on Nov. 8, the most pressing of which is Proposition HHH, officially the Homelessness Reduction and Prevention, Housing and Facilities Bond.
Also on the ballot will be Ordinance JJJ (Affordable Housing and Labor Standards), Charter Amendment RRR (Department of Water and Power), and Charter Amendment SSS (police, fire department and airport peace officer pensions).
Proposition HHH seeks to provide affordable housing for the city's rapidly growing homeless population by the issuance of $1.2 billion in general obligation bonds coupled with citizen oversight and annual financial audits. The Los Angeles Homeless Service Authority estimates that there are about 26,000 homeless persons on the city's streets each night, reportedly representing a growth of 11 percent since 2015. Because homeless encampments have increased throughout the city, a lack of affordable housing—along with low vacancy rates at hotels/motels and rising rent prices—have placed more persons at risk of being homeless.
Proponents of Proposition HHH want to construct 13,000 units of new housing, including 10,000 units of supportive housing. For instance, "supportive housing" (or units for individuals and families who are homeless or chronically homeless) will be directed toward those persons who (1) are of "extremely low income," and (2) "very low income" and/or low as defined by the Department of Housing and Urban Development for the County of Los Angeles.
Temporary shelter, storage and shower facilities will be used by the city (and other public, non-profit and/or private entities) to provide supportive services or goods to those homeless persons as well as individuals "at risk" of being homeless. Also, mental health care, drug and alcohol treatment, and other necessary services to homeless persons will be included within the proposition.
If approved by two-thirds of voters, the measure will require preparation of an annual plan that prioritizes funding for supportive housing and facilities and the necessary bond issuance to finance those developments. The Citizens Oversight and Administrative Oversight committees will be in charge of monitoring the bond program, and all annual financial audits will be available for public review.
Ordinance JJJ, if approved by a majority vote, would require that (1) specific residential development projects (i.e. the Jordan Downs Redevelopment Project) provide for affordable housing and comply with prevailing wage, local hiring and other labor standards, (2) require the city to assess the impacts of community plan changes on affordable housing and local jobs, (3) create an affordable housing incentive program for developments near major transit stops and (4) any other changes necessary to comply with the new requirements.
The percentage and type of affordable units required for each housing project will reportedly vary depending on the amendment or change approved for the specific project. A labor-related provision within the proposed ordinance would require a "good faith" effort that at least 30 percent of all construction worker hours in a project be performed by permanent residents of the city, of which a minimum of 10 percent be performed by so-called "transitional workers" who may face socioeconomic obstacles or other barriers to employment and who reside within a minimum five-mile radius of the project site. Other requirements include payment of certain wages, and all necessary licensing, certification and apprenticeship requirements.