Fire up the Fourth with tasty backyard recipes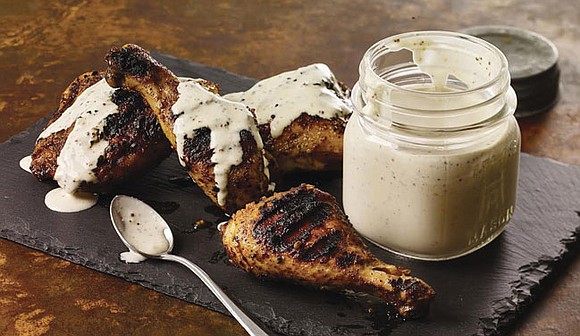 Place potatoes on microwavable plate. Pierce potatoes with fork several times. Microwave on high 5-6 minutes, or until fork-tender but still firm. Let stand until cool enough to handle. In large bowl, toss potatoes, oil and 3 teaspoons seasoning until well coated.
Place potatoes on grill and cook, turning frequently, 4-5 minutes or until skin is crispy. In large cast-iron skillet on grill, cook and stir bacon 8-10 minutes, or until crisp. Add yellow onion and bell pepper; cook and stir 2-3 minutes, or until tender-crisp.
Push bacon mixture to one side of skillet. Add potatoes to other side of skillet. Smash each potato with heavy spatula, bottom of small sturdy bowl or meat pounder. Sprinkle potatoes with remaining seasoning. Spoon bacon mixture over potatoes. Sprinkle with cheese.
Cover pan or close grill. Cook 3-5 minutes, or until cheese is melted. To serve, sprinkle with green onions and dollops of sour cream.
Test Kitchen Tip: Cooking potatoes before grilling reduces overall grill time.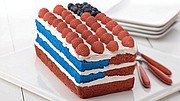 Red, White and Blue Cake
Prep time: 25 minutes
Cook time: 30 minutes
Servings: 12
1 package (2-layer size) white cake mix
2 teaspoons McCormick Pure Vanilla Extract
1/2 teaspoon Blue McCormick Assorted Neon Food Colors & Egg Dye
2 tablespoons unsweetened cocoa powder
2 teaspoons McCormick Red Food Color nonstick spray
1 container (16 ounces) white frosting
1 cup raspberries
1/2 cup blueberries
Heat oven to 350 F.
Prepare cake mix as directed on package, adding vanilla. Transfer 1 1/2 cups batter to small bowl and tint with neon blue food color. Tint remaining batter red by adding cocoa powder and red food color. Pour each color batter into separate 9-by-5-inch loaf pans sprayed with nonstick cooking spray.
Bake blue-tinted cake 20-25 minutes; red-tinted cake 30-35 minutes. Cool cakes in pans 10 minutes. Remove from pans; cool completely.
Trim cakes to remove rounded tops and edges. Slice red cake in half horizontally to form two thin layers. Place one layer on platter. Slice remaining red cake layer in half lengthwise. Slice blue cake in half lengthwise. (Blue and red cakes should be same dimensions.)
Frost red cake layer on platter with 1/3 frosting. Top with lengthwise slices of red and blue cake side-by-side. Frost with 1/3 frosting. Repeat cake layer and frosting. Garnish with raspberries and blueberries to resemble flag.