Go ahead ... eat the whole watermelon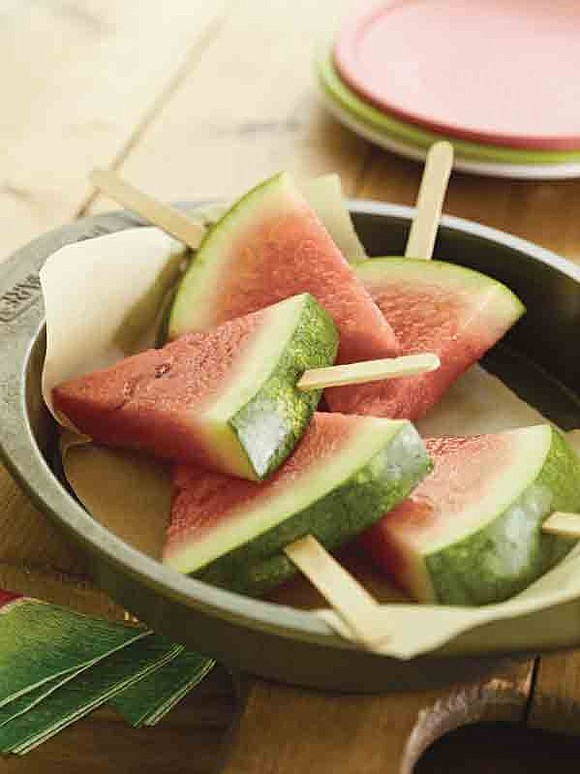 — 1/4 cup low-fat
— sour cream
— 1 1/2 tablespoons
— stone-ground mustard
— 1 tablespoon apple
— cider vinegar
— 4 teaspoons fresh
— lemon juice
— 1 tablespoon sugar
— 1 teaspoon poppy seeds
— 2 teaspoons olive oil
— salt to taste
— pepper to taste
Slaw:
— 4 cups grated watermelon rind (fruit and green peel removed)
— 1 cup grated carrot
— 1 1/2 cups diced fresh pineapple
In small bowl, blend Greek yogurt, sour cream, mustard, vinegar, lemon juice, sugar, poppy seeds, olive oil, salt and pepper thoroughly. Set aside.
Place watermelon rind on several layers of paper towels to soak up excess fluid.
In medium bowl, place dressing, rind, carrot and pineapple, and toss to thoroughly coat.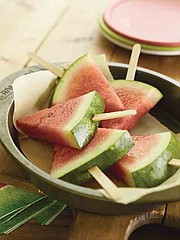 Watermelon Slice Ice Pops
Makes: 5-15 servings
5-15 watermelon slices, cut into triangular wedge shapes, about 1/2 to 1 inch thick, with seeds removed
5-15 ice pop sticks
Insert ice pop stick into rind of each slice.
Optional variation: After inserting sticks, freeze ice pops before serving.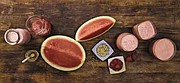 Superfood Smoothie
Makes: 3 cups
— 2 cups cubed and seeded watermelon
— 1 cup fresh or frozen raspberries
— 1 cup raspberry kefir
— 2 tablespoons orange juice concentrate
— 2 tablespoons hemp
— 2 tablespoons agave syrup
— ice (optional)
Place watermelon, raspberries, raspberry kefir, orange juice concentrate, hemp, agave syrup and ice, if desired, in blender and blend until smooth.