Get foiled
Foil-packet cooking is hot, hot, hot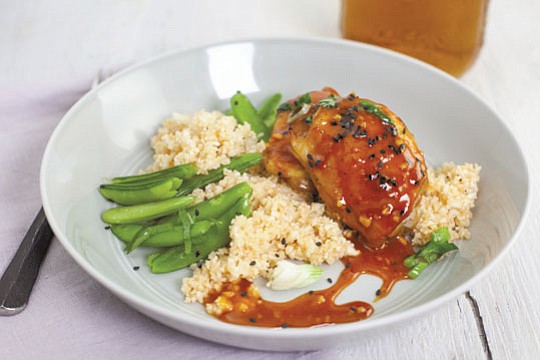 Lightly oil foil pouch and layer base of pouch with cauliflower. Add scallions and sugar snap peas then place chicken on top. Carefully pour remaining marinade over pouch contents (ensuring that liquid stays inside foil).
Seal foil packet and bake or grill 30 minutes. Open foil to create 2-inch long vent then bake or grill another 15 minutes, or until completely cooked. Garnish with cilantro before serving.
Chef's tip: For best results and added flavor, marinate chicken 30 minutes before preparing pouches.
Substitutions: In place of gochujang, red pepper flake paste can be made by mixing 1 tablespoon red pepper flakes with a few dashes soy sauce and 1 dash sugar. Alternatively, substitute 2 teaspoons sriracha for gochujang.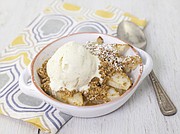 Bartlett Pear and Oat Crisp
Servings: 4
Prep time: 10 minutes
Cook time: 30 minutes
4 cups fresh pears, medium diced
4 tablespoons Nakano Seasoned Rice Vinegar - Mango
3/4 cup quick oats
2/3 cup brown sugar
1/2 cup, plus 2 teaspoons, all-purpose flour
1/2 teaspoon salt
1 teaspoon cinnamon
6 tablespoons butter, diced into 1/4-inch squares
Heat oven to 375 F.
Toss pears in rice vinegar and set into lightly greased foil pouch.
Combine remaining ingredients in bowl and use two forks to combine ingredients until mixture becomes crumbly.
Pour mixture evenly over pears, seal pouch and bake 20 minutes.
Open top of foil and bake another 10 minutes, or until crisp and golden.
Chef's tips: For crispier crust, refrigerate crumbly mixture 30 minutes before baking. Serve with scoop of vanilla bean ice cream.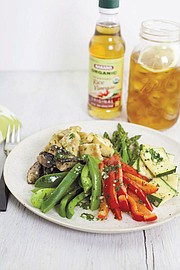 Mediterranean Vegetables
Servings: 4
Prep time: 10 minutes
Cook time: 25 minutes
3 tablespoons Nakano Organic Rice Vinegar - Seasoned
1/4 cup olive oil
1 teaspoon salt, plus extra, to taste
1/2 teaspoon pepper, plus extra, to taste
1 tablespoon, plus 1 1/2 teaspoons, fresh parsley, chopped
1 1/2 teaspoons fresh garlic, minced
1 cup fresh zucchini, sliced into 1 3/4-inch long, 1/4-inch thick planks
1 cup fresh green pepper strips
1 cup fresh red pepper strips
8 fresh stalks asparagus, slicing off 1/4 inch from bottom of stalk
1 fresh portobello mushroom, sliced into 1/2-inch squares
1 cup fresh eggplant, diced into 1/2-inch squares
Heat oven or grill to 375 F.
In large bowl, mix together rice vinegar, olive oil, salt, pepper, parsley and garlic to create marinade.
Clean vegetables then place them in marinade in small batches. Toss to coat then place in foil pouch. Pour remaining marinade over vegetables and seal pouch.
Bake in oven or over indirect heat on grill 25 minutes. Add salt and pepper, to taste, after removing pouch from heat.
Chef's tip: Open pouch after 20 minutes of cooking and allow vegetables to crisp slightly under direct heat for remaining 5 minutes.