Across Black America Week of Sept. 14, 2017
Carol Ozemhoya | OW Contributor | 9/14/2017, midnight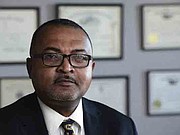 Alabama
Judge Greg Griffin, a circuit court judge in Montgomery, is a habitual Facebook user with nearly 5,000 friends, reports the Washington Post. He posts regularly, sometimes multiple times a day, and often shares life experiences. In April 2016, he talked about one such life experience. Griffin wrote in a lengthy Facebook post that he was stopped by police officers while he was walking in his neighborhood with a stick in his hand. The officers told him that they were looking for a man with a crowbar who fits his description. Griffin pointed out that he was not holding a crowbar, and that doing so wasn't illegal to begin with. He then showed the officers a badge proving that he's a judge. "Throughout the ordeal the officers were courteous. However, it was aggravating to be detained when the only thing I was guilty of was being a Black man walking down the street in his neighborhood with a stick in his hand who just happened to be a Montgomery County Circuit Court Judge in Montgomery, Ala. Lord Have Mercy!!!!!" Griffin wrote. Now, almost a year and a half later, Griffin's post about his encounter with police—specifically his allegation that he was stopped solely because he is Black—is being scrutinized. The judge is presiding over a murder case involving a White police officer accused of shooting and killing an unarmed Black man. Defense attorneys argue that what prosecutors say happened in February 2016, when Montgomery police officer Aaron Smith stopped Gregory Gunn, was "eerily similar" to Griffin's personal experience with officers from the same police department. For that reason, they say that Griffin can't be an objective arbiter of the law—at least not in Smith's case—and he should recuse himself. The Alabama Supreme Court must now decide whether it should force Griffin off the case. The court on Sept. 8 decided to postpone Smith's October trial to allow the attorneys to present arguments.
District of Columbia
Angel Rich, from Washington, D.C., has developed a very innovative app called Credit Stacker that teaches students about personal finance, credit management and entrepreneurship in a fun and engaging way, reports BlackNews.com. The app is so popular that 200,000 people downloaded it to their smartphones and tablets within just two weeks of its launch. Even more, Forbes has named her "The Next Steve Jobs." In addition, the app has been named the "best financial literacy product in the country" by the office of Barack and Michelle Obama, the "best learning game in the country" by the Department of Education, and the "best solution in the world for reducing poverty" by JP Morgan Chase. It has won first place in several business competitions including the Industrial Bank Small Business Regional Competition, the Prudential Financial National Case Competition, and the Goldman Sachs Portfolio Challenge. All in all, Rich has won more than $50,000 in business grants. She was raised in Washington, D.C., and graduated from Hampton University. She also studied at the University of International Business and Economics in Beijing, China. After winning Prudential's annual National Case competition for her marketing plan to reach millennials, she worked briefly as a global market research analyst for Prudential, where she conducted more than 70 financial behavior modification studies.