Study indicates Black boys will remain poor
CORY ALEXANDER HAYWOOD OW contributor | 4/12/2018, midnight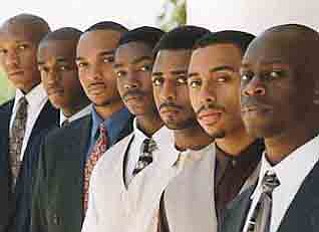 Based on the astonishing financial success of megastars like Jay Z, LeBron James, Tyler Perry, Kevin Hart and others, there's reason to believe that African American men have finally turned a long-awaited corner economically.
But recent studies confirm that despite healthy generational increases in wealth among high-earning Black men, the majority will likely grapple with "persistent poverty" throughout most of their lives, a finding contrary to the popular belief that it has been steadily narrowing.
A new extensive study conducted by The Equality of Opportunity Project, analyzed racial differences in economic opportunity using data on 20 million children and their parents across generations, shedding light on a stark reality that African Americans have always known to be true, that race, and racism have always been determining factors in how opportunity is distributed in America, reports Black Enterprise.
Findings in the study reveal that Black boys, even those reared in wealthy families and residing in the most well-to-do neighborhoods, have always earned less than their white counterparts in adulthood. To put it simply, the study indicated that Black boys have always had much lower rates of upward mobility than White children, which has contributed to generations of Black-White income disparity. In fact, by some measures, the research showed there has been no change in the income gap between African-American and white males over the last 70 years.
A study authored by University of Chicago economist Kerwin Kofi Charles and Duke University economist Patrick Bayer is the first to look at income inequality while incorporating data from men who aren't working. The method, said Charles, is a more accurate picture of labor market dynamics because it addresses access -- or lack thereof -- to jobs. While some men might not be working by choice, many simply can't find a job or are kept out of the workforce by jail or their criminal record.
When looking at the average earnings for Black men versus the average earnings for White men, the gap steadily improved from the 1940s until the mid-1980s. Then, the trend reversed. So much so that by 2015, the gap had widened back to 1950s levels.
Charles attributes at least some of this lack of progress to an educational attainment gap. While ending segregation and the Civil Rights Movement led to better education for Blacks as a group, African-Americans are still playing catchup compared with whites as a whole. Meanwhile, the educational requirements for a decent middle-class job keep getting higher.
For instance: In 1940, when factory jobs were an entry into the middle class, fewer than 10 percent of Black men had completed high school while 28 percent of White men had. By 2014, rates for both races were near 90 percent, but college completion rates are still starkly different. More than one-third of White men have completed college while just 17 percent of Black men have.
Research shows that Black men experience the most severe underrepresentation in the field of "construction, extraction, and maintenance," which tends to be low-education-credentialed but which pays wages that are significantly higher than in the service sector. Black men are overrepresented in the lower-paying service sector.