Texas city settles with teen over cop's excessive force at pool party
Carol Ozemhoya| OW Contributor | 6/22/2018, 11:27 a.m.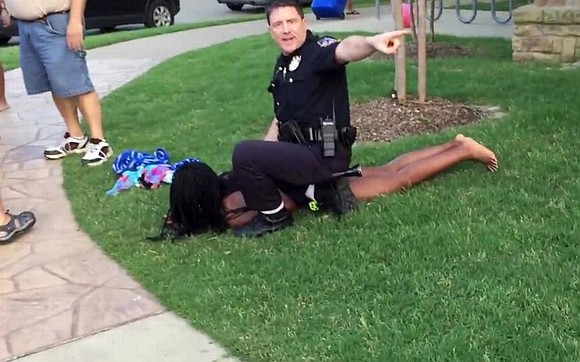 Remember back a few years ago when an overzealous cop manhandled a young teenage girl at a pool party in Texas? The teen, Dajerria Becton, and her family have reached a settlement with the city of McKinney for an estimated $148,000. The cop, identified as David Eric Casebolt, is long gone. He was released from the police department, as even his chief called what he did "indefensible." What he did was tackle the young teen, 13 at the time, pressing his knee into her back mercilessly as cameras and videos went off around him. Witnesses and footage showed Becton was not engaging in an aggressive act – she was just standing there when the officer and several cops arrived. Witnesses also claimed the police targeted Black kids at the party.
There were no gunshots, no fights – just a bunch of kids having fun. A neighbor apparently called police because of the noise level from the pool party, attended by some 100 teens celebrating the end of the school year. "While the events precipitating this case are regrettable, the City of McKinney and the McKinney Police Department would like to express their thanks to the community for its commitment to inclusiveness, order and unity," said a statement from the police department." Becton's family had filed a $5 million federal lawsuit against Casebolt after the 2015 incident at the Craig Ranch North subdivision in southwest McKinney, accusing him of using excessive force.