Holiday festivities scheduled soon at Palmdale Playhouse
See St. Nick beginning Nov. 27
Merdies Hayes Editor In Chief | 11/22/2018, midnight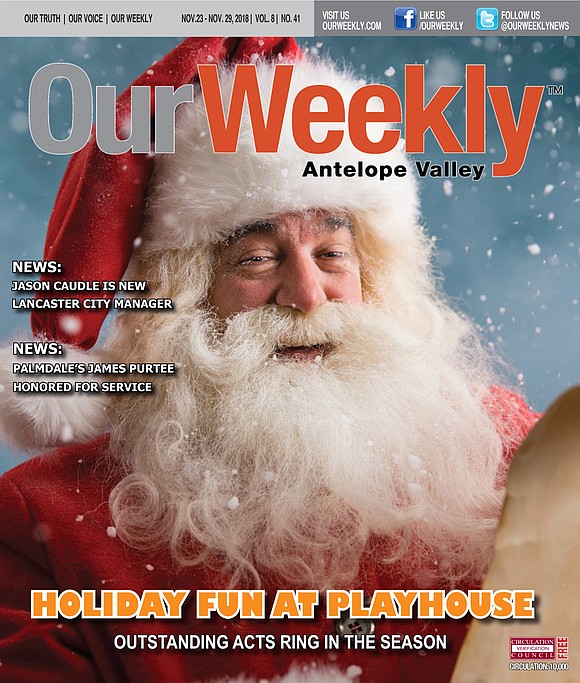 The Palmdale Playhouse, located at 38334 10th St., kicks off its 2018 Holiday Experience with the annual visit from St. Nick at Santa's Wonderland beginning on Tuesday, Nov. 27. 
 Santa Claus will meet and greet visitors on Tuesdays: Nov. 27; Dec. 4 and 18, from 3 to 7 pm; and Thursdays, Nov. 29; Dec. 6 and 13 and 20 from 10 am to 2 pm; and Saturday, Dec. 15 from 10 am to 2 pm.
 Admission is free. Photos with Santa are $5 and include a complimentary photo frame gift pack.
"Delight in the magic of the holiday season," said Palmdale Recreation Supervisor Annie Pagliaro. "Santa Claus will park his sleigh in the lobby and will be on hand to take holiday wishes and a picture to remember. Take the opportunity to relax and enjoy complimentary refreshments."
The popular Alley Cats will take the Playhouse stage on Friday, Nov. 30 at 7 pm for a special Christmas concert. They will sing favorite carols and holiday hits in a capella doo-wop style.  The Alley Cats have opened for Jay Leno, Jerry Seinfeld and Joan Rivers, and have appeared on numerous TV shows. Tickets are $18. 
On Saturday, Dec. 1 at 5:30 p.m, popular Singalong with Santa returns. Before the show, Santa's elves will help kids handcraft a special holiday keepsake and pen letter to Santa. Then, the audience will join Santa and his crew in the theater for an interactive performance. Tickets are $6 and include a souvenir songbook and keepsake jingle bells.
The entertainment switches to dance on Sunday, Dec. 2 at 2 and 7 pm as the Palmdale Junior Ballet and Theater Dance present "'Twas the Night Before Christmas and the Dance into Christmas." Based on the timeless American poem by Clement Clarke Moore, "'Twas the Night Before Christmas" brings to life the much-loved story of Santa Claus visiting an unsuspecting father. Set in the 1940s, the ballet follows a typical American family as they trim the tree, hang up stockings, leave cookies for Santa, and one man's journey through a memorable night. Palmdale Theatre Dance will "Dance Into Christmas" with "Up On The Housetop," "Jingle Bell Swing" and "Happy Santa Dance." Tickets are $12 for adults, and $10 for students, seniors, military and children 12 and under
The Palmdale Community Foundation will host a special "Backtrack & Bites Benefit Concert" on Saturday, December 8 at 7:30 p.m. at The Palmdale Playhouse, 38334 10th St. East to raise funds in support of a new Playhouse dressing room building.
Tickets for the fundraiser are $45 and include a festive holiday musical performance by a cappella sensation Backtrack, delicious hors d'oeuvres and wine tastings. All proceeds will go into the Palmdale Community Foundation for the dressing room project.
"Celebrate the holidays while also giving back to your community," said Palmdale's Director of Recreation and Culture Keri Smith. "For 23 years, we've had hundreds of performances and seen thousands of faces grace our stage. Help us keep it going! We've put together a night of incredible music paired with tasty bites and wine sampling that's sure will put you in the holiday spirit!"