Black leaders defend state legislator asked to resign over rumors of domestic violence
Carol Ozemhoya | OW Contributor | 10/12/2018, 2:23 p.m.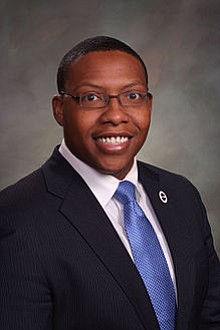 Former Denver Mayor Wellington Webb, surrounded by prominent African American leaders in the metro area, slammed Democrats in the Colorado legislature Thursday (Oct. 12) for calling on State Rep. Jovan Melton (D-Aurora) to resign after two past arrests came to light, reports Channel 9. "[It's] a Jim Crow standard of justice by the House Democratic leadership," Webb said at a news conference, citing other instances when the same lawmakers delayed calling for their colleagues' resignations in the wake of harassment claims.
"We're not going to allow our own party to be a party to what they're trying to do to Rep. Melton." The Denver Post published a report earlier this week on the arrests, both related to domestic violence allegations. According to the Post, Melton pleaded guilty to harassment and trespassing charges stemming from a 1999 arrest. He was arrested again in 2008 on misdemeanor assault charges, the Post reported, but that case was dismissed. The paper alleged that the 1999 incident involved a college girlfriend, and a judge gave him a 12-month deferred sentence.
Multiple Democrats in House leadership "encouraged" Melton to resign after the report. Even Democratic gubernatorial candidate Jared Polis agreed with House leadership. "I believe in consequences; I also believe in redemption. If somebody committed a crime when they're young, does that mean they should never stand for public office? If they redeem themselves? If they ask, those who were affected, to make restitution? And then it's up to the voters," Polis said in a text to Next. "In this case, I think Representative [Jovan] Melton really needs to look himself in the mirror and ask if he can continue to be an effective representative for the people of his district, having lost the confidence of his colleagues and so many voters. I agree with Speaker [Crisanta] Duran and with Majority Leader [KC] Becker that he should take a serious look at resigning."
However, others disagreed. "It's our own party, and the leadership of that party, that decided to be judge, jury and executioner," said Bishop Acen Phillips. "Most of the time when you talk about sexual harassment, it's because someone waited 10, 15, 20 years and never reported it. This is not the case." Added Phillips, "It just makes you think. Are they doing it because he's young and Black and victorious at what he does. This is a 21st century lynching of a Black man."