College athletics remain under national scrutiny
'Slaves' to the game?
Cory Alexander Haywood OW Contributor | 8/15/2019, midnight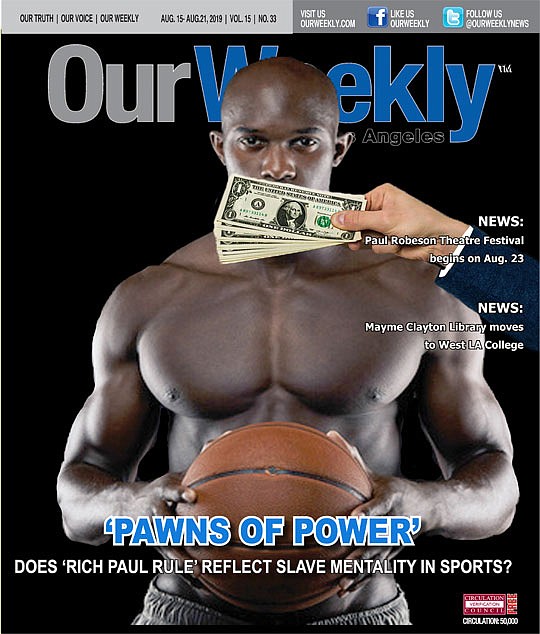 NCAA backs off rule change
After considerable opposition, the NCAA retreated from its plan to enforce stricter guidelines on agents. Instead, those who don't have a bachelor's degree will have to be in "good standing" with the National Basketball Players Association.
Despite this new decision, the NCAA's original idea points to a much larger issue of widespread discrimination against minorities. In a system largely governed and perpetuated by "gluttonous White overlords," Paul is clearing pathways for his clients to cultivate their individual brands and accumulate generational wealth. For instance, he recently got involved in trade negotiations that resulted in all-star forward Anthony Davis leaving the New Orleans Pelicans to join the Los Angeles Lakers. It was a difficult decision for both the Davis and the Pelicans, but it may illustrate Paul's commitment to empowering players, and limiting the control that owners have freely exerted since the NBA's inception.
With some of the biggest names in basketball under his advisement, Paul's legend is growing in step with his childhood pal and personal client, LeBron James. Both deserve credit for having the courage to stand up against corporate greed and the "good ol' boy" traditions of the NCAA and NBA respectively.
This factor is what makes the James-Paul partnership so compelling. It's a saga of two Black "alpha males" standing toe-to-toe with various groups of high-powered executives.
LeBron James offers opinion
The duo will likely take additional steps to push their cause forward, but there's opposition growing in high places to slow them down.
Those closely attuned to the sports world attest that both Paul and James appear to be targets of a very powerful institution. There is growing suspicion among Black sports agents—and their clients—that Paul's lack of a formal degree may underscore the NCAA's sudden inclination to increase its academic standards for sports agents. In fact, James is calling it the "Rich Paul Rule" that may unfairly target Black men and women in Paul's profession.
Throughout history, barriers have been created and reinforced to prevent minorities from climbing the proverbial "ladder of success." It's a narrative that's rooted in fear, envy and greed.
Few Black Division 1 coaches
Is the NCAA partaking in a long-held tradition of stifling the potential of Black men? While that question is debatable, there is no monetary compensation for athletes who play college football and basketball—by far the biggest money-makers in NCAA Division 1 sports. Also, Black men only represent 11 percent of all head coaches in Division 1 football at a time when Black players comprise up to 56 percent of college football rosters. The landscape is similar in college basketball.
"These young men are being programmed to obey the commands of White men," says former athletic conditioning coach John Sayers. "How many Black men do you see coaching football or basketball at the college level? They can go get a job coaching for an HBCU down south, but how many of these kids have the foresight to play for coaches who look like they do and can relate to their struggles? No, the top prospects go to the schools that get national exposure and media coverage. That's how you make the NFL and the NBA."