Numbers cast doubt on Trump's view of Black employment
Local job centers more responsible for paychecks
Josanta Gray OW Contributor | 7/18/2019, midnight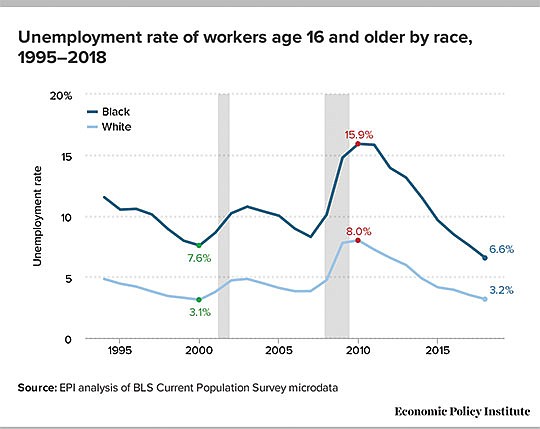 By now, it should be no surprise that President Donald Trump likes to claim credit for nearly everything. This is including, but not limited to the economy, farm bailouts, the Middle East, decimating Isis and immigration reform, to name a few. While none of these accomplishments are exactly accurate, Trump is notorious for sharing ambiguously good news to support his agenda during high-profile interviews and via Twitter.

Trump's latest rhetoric suggests that he has decreased the African-American unemployment rate since entering office in January 2017. At the top of 2018 via Twitter, he bragged that "because of my policies, Black unemployment has just been reported to be at the lowest rate ever recorded."
Most recently, he shared during February's State of the Union address saying that "African-American, Hispanic-American and Asian-American unemployment have all reached their lowest levels ever recorded."
According to the Bureau of Labor Statistics (BLS), as of June 2019 the Black unemployment rate is 6 percent compared to 3.7 percent nationally. This rate is down 9 percent compared to last year (6.6 percent) and 22 percent when compared to the month Trump took office (7.7 percent). Although the unemployment rate among African-Americans has dropped to a record-breaking low, this poses a conflicting question for the community. Does Trump have the right to claim he decreased the African-American unemployment rate?
While a 6 percent African-American unemployment rate is a major accomplishment, Trump's spin on this statistical claim is dangerously misleading. The Economic Policy Institute (EPI) has shown that the downward turn began long before Trump entered the White House. The rate has steadily declined for the past eight years.
"Trump needs to step up his game," said Marline Hodson, a 64-year-old retired nurse who is fearful of the job market for her grandchildren. "He's a leader. He shouldn't throw out inaccurate stuff like that."


Critics believe Trump should be judged by his inability to close the persistent racial disparity among the unemployed. The BLS reports, as of June 2019, African-American workers have the highest unemployment rate nationally at 6 percent, followed by Latino workers (4.3 percent), White workers (3.3 percent), and Asian workers (2.1 percent). Nationally, African-American unemployment has been at least twice as high as White unemployment for decades. Even though the Black unemployment rate is lower, this is an insignificant truth upon viewing the nation and this racial disparity as a whole.


"The annual Black unemployment rate has only been in the single digits 10 of the last 47 years that the BLS has reported it," said the EPI. "In the last 65 years that BLS has reported the white unemployment rate, it has always been below 10 percent."
According to the Employment Development Department (EDD) for the State of California, in May 2019, the California unemployment rate was 4.2 percent, while it remained 3.6 percent in Los Angeles County. California's Black unemployment rate decreased slightly when comparing May 2019 (6.2 percent) to December 2018 (6.5 percent).
"After 111 months of continuous economic expansion—the second longest expansion on record—unemployment rates generally are at historic and sometimes record lows. This tends to be true across regions of the state and across demographic groups. Black unemployment rates may be at record lows, but the same might also be said of other racial and ethnic groups," said an EDD State of California media services representative.