Peter Ramsey talks 'dream' of Hollywood
Critically acclaimed film animator
Kaeche Liburd OW Contributo | 6/6/2019, midnight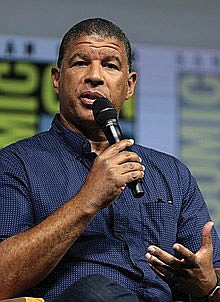 A: "There's so much available that you can get almost for free. And that just takes an internet connection and a computer."
Q: What was the set like working with 2Pac and Janet Jackson on "Poetic Justice?"
A: "It was quite electric. The other thing about it, was that it was John Singleton. He was quite a cultural hero at that point. It was kind of like being part of a movement. It was energetic, energizing, and inspiring. It was a kind of sense that something new was happening. I was still early in my career, but to be working on 'Poetic Justice' when John Singleton was a thing and you had 2Pac and Janet Jackson. That movie was a little bit of a 'mecca.' There were a lot of talented Black people drawn to the process."
Q: What is art?
A: "Societal expression and communicating to other people an experience so that other people can empathize, so that they can learn, so that they can have a different perspective on either our experience or of looking at their own experience. It can be a way of celebrating stuff. It can be a way of interrogating stuff. There's a lot of different things to express. You've got to be open to all the different things that art can do for you."
Q: What advice do you offer for the child who may want to make animation a career?
A: "Read a lot of books, draw a lot of pictures. Animation as an art form is gonna require an understanding of art, maybe anatomy, all those things you can learn with just a pencil pad and a piece of paper. Storytelling? You can just read books. You can watch movies. You can take stuff that you like and that moves you and study it!"
Q: What do you use for inspiration when in a creative rut?
A: "Remembering the things that I loved and remembering the things that inspired me. Go back and look at a movie by Andy Copolla...one of my favorite directors. Don't tell yourself that you're not supposed to be there, because you are there. Your unique power is that you are the original. It doesn't matter who you are; there's something that you have that nobody else does."