Innocent Black man set free after 33 years
The odyssey of Keith Bush
Isabell Rivera OW Contributor | 5/30/2019, midnight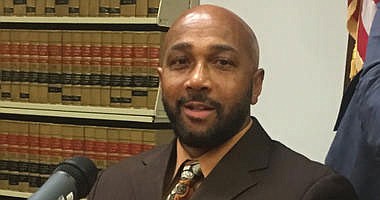 Stahl also mentioned he's not a racist, and that he worked with a Black officer in the past, as well as with Black soldiers in WWII, and the Korean War. However, he wasn't too fond of the opening of the Bush case, and criticized the efforts to vacate his conviction.
"There's no doubt in my mind that I got the right person for the murder," Stahl told reporters.
"Mr. Bush, I cannot give you back that which was taken from you in the 1970s," Suffolk County Court Judge Anthony Senft said in an occupied courtroom. "But I can give you back your presumption of innocence."
Bush said in an interview that he feels despair for the Watson family, since it's unclear who allegedly killed their daughter.
Sini, who was elected to the office after the resignation of former D.A. Thomas Spota, indictment in 2017 on federal conspiracy and obstruction of justice charges, was shocked by the range of mistakes and misconduct in the Bush case, the first that his CIB has sought to reverse.
"The worst thing a prosecutor or any member of law enforcement can do is go forward with a case when they have reasonable doubt about that person's guilt," Sini told USA Today. "Here they had more than reasonable doubt."
The Suffolk County District Attorney's office fought against Bush's efforts to have his 1976 conviction re-examined. Bush received lifetime parole as a registered sex offender in 2007, which has been removed from his record.
"I am truly humbled by this decision," Bush said in court, USA Today reported.
Bush explained in an interview with the D.A. that he reportedly denied confessing to the murder.
"I refused to let them do to me as a man what they did to me as a boy," Bush said in the filing.
Bush's attorney, Adele Bernhard who runs New York Law School's Post-Conviction Innocence Clinic, was beyond thankful.
"Sometimes, in the words of Martin Luther King Jr., the arc of the universe does bend to justice, and it has in this case," Bernhard said. "A wrongful conviction affects the whole community, and takes a whole community to set it straight."
"Mr. Bush wouldn't be here without her work and her clinic's work," Sini mentioned in an interview. "It's an honor to work with her."
Cases like this of Bush and the re-investigations show the power the CIB has, and the injustice happening in our justice system. Investigations nowadays are different, than it appears to be decades ago, and many legal aid organizations, such as the New York Law School's Post-Conviction Innocence Clinic ("PCIC") help fight the injustice being served by either delivering the actual suspect, or by freeing the innocent. The re-examination of the case was able to point out flaws in the case, mistakes that could have been avoided, if the law enforcement officials followed procedures.
"In this case, I thought I would ultimately get somebody to listen," Bernhard told reporters. "It was just too heartbreaking."
After Bush made allegations of abuse in regards the interrogation process, which is on his medical record, many Suffolk County detectives, including Rafferty would later be known to use such tactics. However, both, Stahl and Rafferty told USA Today that those allegations are wrong, and that they have never beaten Bush, or any other suspect.