AV Wall on display next month in Palmdale
Merdies Hayes Editor | 10/25/2019, midnight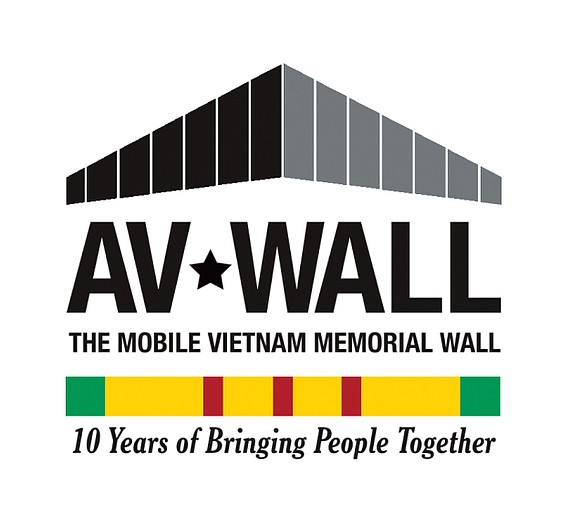 Antelope Valley residents are invited to attend one of the Southland's most honored traditions of late when the annual display of the AV Wall takes place Nov. 7-12 at the Palmdale Amphitheater, 2723 Rancho Vista Blvd., in Palmdale.
Twenty-four-hour access to the AV Wall, a half-size replica of the original Vietnam War Memorial in Washington, D.C., begins at 5 p.m. Nov. 7, and then continuously from Nov. 8-12. Taps will be played each evening at 9 p.m. The pre-event project this year is "Tied to Our Hearts," with the 2019 theme as "10 Years of Bringing People Together."
Hosted by the city of Palmdale, the AV Wall Committee and Point Man Antelope Valley, the special community project is designed to honor local veterans of all U.S. military conflicts. Visitors can help to create a special Vietnam War service ribbon along the Palmdale Amphitheater fencing intended to "welcome home" all veterans who pass by, as well as those who attend the upcoming events surrounding the presentation.
The AV Wall is one of only two mobile Vietnam War veteran walls that are engraved. It is the only one laid out in the same design as the original in the nation's capitol, and measures about 250 feet long and six feet high at its apex. The AV Wall contains the engraved names of all 58,286 Vietnam War veterans who were either killed or remain missing in action.
A special escort route will begin at 8:30 a.m. Nov. 7 at HW Hunter RAM of the West, 43225 10th Street West, in Lancaster. Staging will take place on Avenue K-8, just east of 10th Street West. At 9 a.m., the procession will begin on Avenue K-8 and proceed west. It will turn right on 10th Street west, make another right on Lancaster Boulevard, and then right again on Sierra Highway.
From there, the procession will turn right on Palmdale Boulevard, turn right once more onto 10th Street West, make a left on Rancho Vista Boulevard, then turn right on 27th Street West culminating at the Palmdale Amphitheater.
The traditional candle-lighting ceremony will take place at 9 p.m. Saturday, Nov. 9. This ceremony pays honor and respect to the soldiers from the Antelope Valley who lost their lives in the Vietnam War, as well as to provides a level of comfort to their relatives. The names of the 76 soldiers from the Antelope Valley, along with other soldiers whose families may be in attendance, will be read as a candle is placed by the soldier's name on the panel.
In honor of Veterans Day on Nov. 11, a special ceremony will take place at the traditional hour of 11 a.m. in honor of their service to the nation. The public is encouraged to attend this moving and heartfelt ceremony.
There is a distinct history related to the AV Wall. From 2005-2009, more than $10,000 was raised to build the wall. It was dedicated at a ceremony on Nov. 13 2009 at Joe Davies Heritage Airpark at Palmdale Plant 42.