Holman United Methodist Church hosts Black College Summit Nov. 4
Annual event for Historical Black Colleges and Universities
Lisa Fitch OW Contributor | 10/31/2019, midnight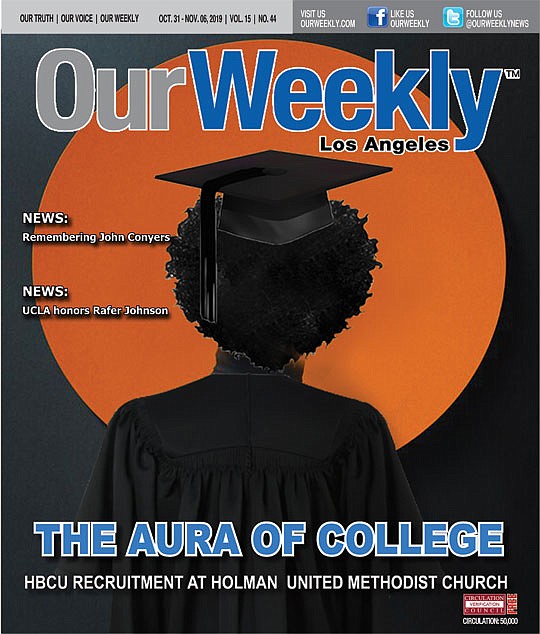 As November approaches, seniors are busy completing applications to colleges and universities nationwide. Competition for those young, promising minds is fierce. 
The application submissions period closes Nov. 30 for California State Universities admission in fall 2020. Several other entities are offering events and tours stressing the need for African American students to consider Historically Black Colleges and Universities (HBCUs).
"Mainly because they will receive the support and the encouragement of faculty, staff and fellow students," said Elaine Moore, who is coordinating a November Black College fair. "Then there are the high academic standards and the opportunity to see role models."
Moore is part of the Holman Community Development Corporation and Holman Bridges to HBCUs' "Annual Black College Summit," set from 5 to 8 p.m. on Monday, November 4 at Holman United Methodist Church, 3320 W. Adams Blvd. RSVP for the free event at www.blackcollegeadmissions.com
HBCU representatives on hand
"This is our ninth annual event," Moore said. "What makes this college fair different is that this year we're bringing 20 HBCU reps directly from their universities. You're getting the admissions people who will be at the summit and many will offer onsite admissions.
"We'll have information on financial aid and scholarships," Moore added. "And there will be scholarship workshops as well."
The event is open to community college students and high school students. Moore advises that high school seniors bring five or more copies of their transcripts, along with SAT scores if they wish to be considered for admission on the spot or application fee waivers, although not all representatives will be offering onsite admissions.
Community college students are advised to stop by the community college table for clearance and bring five copies of all college transcripts indicating the completion of 30 or more UC or CSU transferable units to take advantage of the California Community College Transfer Guarantee Agreement to HBCUs Project's fee waiver and onsite application process, which has been nicknamed "the associates degree with a guarantee." 
Twenty of the HBCU schools with booths at Holman already participate in the agreement, which has paved the way for thousands of students since it's launch in 2012.
Transfers made easier
In most cases, if a student completes 60 semester units of general education and major-specific coursework at a community college, maintaining a 2.0 GPA or higher, they can transfer to a guaranteed spot with a junior standing at a participating four-year university.
A link showing a list of participating HBCUs is located on the California Community Colleges website: https://adegreewithaguarantee.com/en-us/List-Colleges.
Thomas Alexandre, a transfer student from West Los Angeles College (WLAC), plans to be at Holman's Black College Summit, and staff the booth for Clark Atlanta University (CAU). He graduated from CAU in 2010 and wants to share his experiences at the fair.
"I realize that HBCUs haven't really been pushed to a lot of individuals in California," Alexandre said. "My passion is to let everyone know that there are options other than the UC and CSU systems."
Alexandre was reared in South L.A. and graduated from Crenshaw High School before moving onto WLAC. That's where he learned about HBCUs.