Holman United Methodist Church hosts Black College Summit Nov. 4
Annual event for Historical Black Colleges and Universities
Lisa Fitch OW Contributor | 10/31/2019, midnight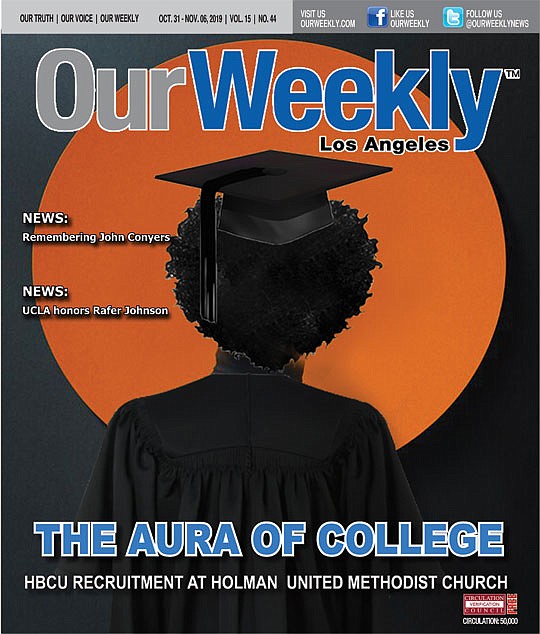 "I stumbled upon the HBCUs," Alexandre said. "I didn't really know too much about it before, but while I was attending a community college, I realized I could transfer my credits after going to West LA for two years."
Even though he had never been to the south, after getting a start on college work at WLAC, Alexandre felt it was time to leave home for a while.
Learning about Black success stories
"It was one of the best decisions I made in my life and made me what I am today," he said. "Seeing something outside of California was much needed. It taught me more responsibility, getting away from home."
After choosing a major in business at CAU, Alexandre's classes often brought in guest speakers, HBCU success stories and Atlanta millionaires. Some of his teachers were celebrities themselves.
"One of my professors was Dr. Dennis Kimbro, a world renown millionaire and book writer. He's written so many inspiring, motivational books. He wrote 'Think and Grow Rich: A Black Choice'" Alexandre said. "Having a class by that professor and learning from him taught me the world of business and made a huge impression on me and taught me the benefits of professionalism." 
"That was one of the first classes I had," Alexandre added. "First year seminar class grooms you, you learn the way to dress and go through mock interviews in that first year."
Alexandre said that through his matriculation in business school he learned the power of ownership. After graduation, he joined with CAU friends Hassani Ellis and Omar Muhammed to work in the community.
"Me and two friends decided to open our own firm called Crenshaw and Clark Financial, where we specialize in taxes, accounting and financial planning," Alexandre said.
He agrees with Moore, and believes that HBCUs offer a one-of-a kind education.
"I recommend HBCUs because its an experience you'll get at no other institution," Alexandre said. "You're a part of a family instead of just another number. I still have conversations with my old professors. 
"I developed life-long relationships throughout college and know I've got life-long friends around the world," he added. "We were individuals from different places, coming all together to benefit ourselves."
Alexandre said that there were two major takeaways from his time at Clark Atlanta University.
HBCU tours set
"That we are a culture for service," he said. "And that we can always find a way or make one."
Educational Student Tours (EST) will hold its next community college student tour from March 29 through April 3, 2020 and April 5-10, 2020.
The EST tour for high school students is set from June 14-18 in 2020. Tours sell out early every year and the student cost of $1748 includes round-trip airfare from LAX, meals, hotels, ground transportation, night-time, professional security and a chaperone ratio of at least 1 to 15. Parent cost to attend the tour is $1900. 
"Of the students who attended our 2018 tours, 71 percent chose HBCUs and are there right now," said Dr. Yasmin Delahoussaye, who has managed the EST tours with her husband Gregory for the past 32 years. "It's been a labor of love."