Holman United Methodist Church hosts Black College Summit Nov. 4
Annual event for Historical Black Colleges and Universities
Lisa Fitch OW Contributor | 10/31/2019, midnight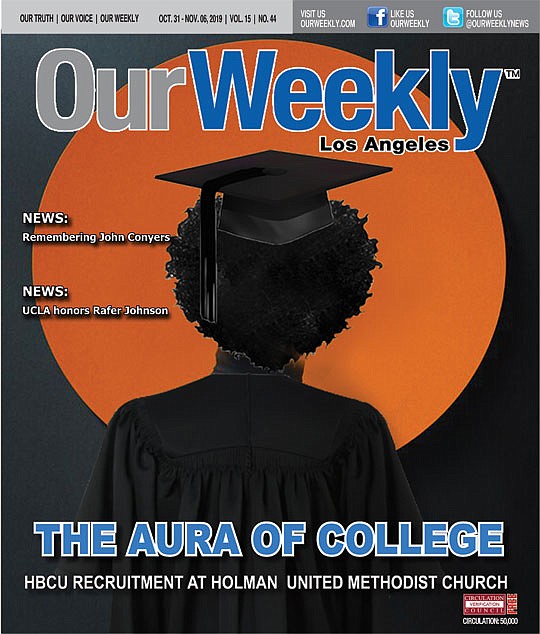 EST also creates opportunities for low-income and foster youth to attend HBCUs in order to transform their lives.
The Delahoussayes recently returned from a special 10-student tour for foster youth. Even after receiving a grant for the trip and substantial donations from L.A. County Supervisor Mark Ridley-Thomas (Second District), The Hale Foundation and Union Bank, Delahoussaye had a difficult time coordinating the tour.
"It almost took an act of God and Congress, because some of the social workers responded, but some did not," she said, noting that although Blacks make up only 9 percent of L.A. County's population, 29 percent of the children in foster care are Black.
Persistence pays off
"There's a process to get a judge to clear you to take foster kids out of the state," Delahoussaye explained, adding that social workers must be willing to work with tour guides throughout the various procedures that will permit the foster child to travel.
Still, she and her husband persisted and were bound and determined to find 10 youth for the college tour trip.
"We ended up with seven seniors and three juniors," Delahoussaye said, noting that her contact at the Los Angeles Unified School District helped her get in touch with students. 
The highlight of the tour was the visit to Johnson C. Smith University (JCSU) in North Carolina. JCSU has a special program specifically for foster youth called "Phasing Up to New Possibilities," which offers additional financial aid; help with finding local jobs; a food pantry; and mentors who are studying in the School of Social Work.
"The emotion that came out of that trip, I can't describe to you," Delahoussaye said. "It was life changing."
Many foster youth, Delahoussaye explained, have had to deal with very adult issues, including being offered drugs, living with domestic violence, being recruited for prostitution; and/or dealing with depression. 
One of the students on the trip had lived in five different family placements within the past year, but still managed to test with the highest SAT score in her school.
"Their stories are heartbreaking," Delahoussaye said. "The trauma that they've been through."
During the EST tour, the foster youth group explored the campus and met with JCSU foster youth who are currently in "Phasing Up."
"They definitely felt the love at Johnson," Delahoussaye said. "Three of the seven seniors decided off-the-bat that was their school. That's where they are going."
More than 4500 high school and community college students have participated in EST tours over the years and 80 percent are enrolled in HBCUs.
EST is a 501c (3) non-profit, tax-exempt organization and welcomes donations at https://blackcollegetours.org/ways-to-give/.
Apple's new scholarship program
Students who are currently attending an HBCU may qualify for Apple's $40 million HBCU scholarship program.
The Thurgood Marshall College Fund, in partnership with Apple, is accepting applications from HBCU students who have a minimum 3.0 GPA and are currently working toward an undergraduate, masters or Ph.D. degree, and graduating between December 2020 and May 2022.
Selected scholars will participate in a 12-week internship during the summer and will receive a need-based scholarship award that will be applied to the academic year immediately following their internship period. 
The program has opportunities for students in a variety of disciplines. Apple is looking for individuals who have analytical abilities, the ability to articulate ideas, the ability to learn new concepts, along with excellent verbal and written communication skills.
The Apple application will remain open until all internship positions have been filled. 
For details visit www.tmcf.org/our-programs/career-preparation/apple-tmcf-hbcu-initiative-2.