Black motorcycle club gives back
Maryland
Carol Ozemhoya | OW Contributor | 9/17/2019, 3:29 p.m.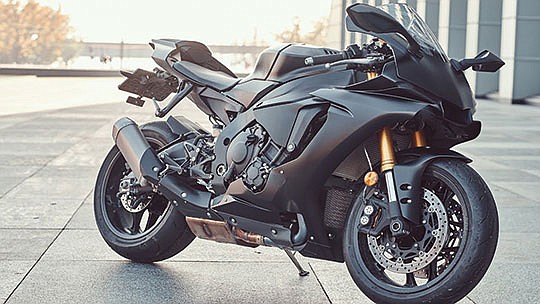 As a chapter president in one of the nation's oldest African American motorcycle clubs, Rodney "Rhodes" Yancey covers a lot of road. It's called the State Burner's Motorcycle Club — as in burning rubber in multiple states.
The club was founded in 1946 in Philadelphia, Pa. and has hundreds of members in multiple states today, Yancey said, reports NBC News. He has been in the club just short of a decade and started the Bowie (Maryland) chapter in January 2018, which he is now trying to grow in membership and in community impact. The group takes long group rides together, frequently crossing state lines, hence the name.
This week they will pack up their saddlebags and head across the Bay Bridge, through sprawling cornfields and to the beach for Delmarva Bike Week, an annual event that draws clubs of all backgrounds, Yancey said. He plans on doing some networking while there. The club also works together to give back to the community. A month ago, the club held a back-to-school supply drive.
And while last year, they contributed to food and toy drives through the club's Woodbridge, Va. chapter, this coming holiday season, Yancey said he wants the Bowie chapter to host its own drives.
"If you are in a position to bring people together, you should make it so that group is doing something for more than just itself," he said. "You need to have some type of mission outside of let's just gather money and party, otherwise what are you here for, you're just an oxygen thief."
Yancey, a Bowie resident, has been riding for more than three decades, a skill and passion he learned from his high school friend and fellow chapter member Gary Williams. He bought his first bike, a sport bike, while stationed in Florida with the U.S. Navy. He wasn't aware of the motorcycle subculture when he first started riding. Eventually he started noticing groups of bikers riding together, and he became interested in the State Burner's, specifically because of its community service and history as the oldest African-American club in existence.
His nickname is "Rhodes," like Rhodes scholar, and his matte black bike's name is "Ghost." Why ride in a group? It's fun, but it is also a good way to build trust between people, Yancey said. He calls members brothers and sisters.
"Ninety miles an hour, three feet apart. That's how you build trust and brotherhood," Yancey said.
Before a person can be fully initiated, they "hang around," spending time with the group to learn about the club, people and culture. There is a process through which potential members are initiated. To start, they "hang around" learning about the club, people and culture. They are an African American motorcycle club, but have members from multiple ethnicities and all walks of life, Yancey said.
"The love of riding and the brotherhood is a real way to connect across the barriers that you might otherwise find," Yancy added.