South LA youth contribute via 'activism through art'
A powerful tool for effective change
Isabell Rivera OW Contributor | 9/27/2019, midnight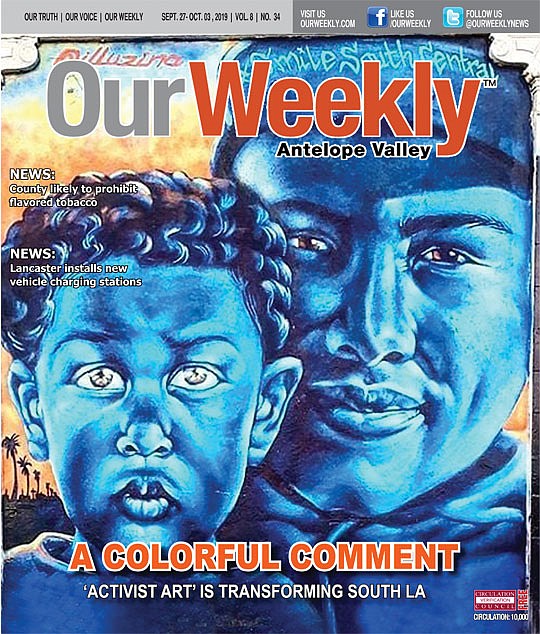 Art has always been a fascinating way to communicate moods and situations, through colors and textures. Art is also a powerful tool that can help bring positivity to the less fortunate, as well as underserved communities, such as South Los Angeles.
On the corner of Western Avenue and 48th Street is the familiar mural that reads "Welcome to South Central," which was created by Norwegian street artist Zina. The words on one of their spray painted faces reads:
"If it's revolutionary to want fresh food, clean water, access to education and health care, equity and justice...then I am revolutionary."
Empowering South LA
Throughout the '80s and '90s, South LA—formerly known as South Central—saw the crack cocaine epidemic killing its community. Police brutality and gang activity were the norm, along with unemployment and resulting poverty.
Over the years, many different artists transformed the gray and beige walls of old buildings into colorful meccas that tells stories of change, love for the neighborhood, and resistance. 
The art projects are the result of many non-profit social justice organizations, such as Community Coalition (CoCo), which tries to bring the community together and offers activities for the youth. Street art projects such as Smile South Central, created by Adam Ayala, is not considered vandalism, but as inspirational and powerful messaging.
 Artist and muralist, Fabian Debora, who also works as the community connection director with the juvenile youth in detention at the Art for the Incarcerated Youth Network (AIYN), believes that art can unite different cultures.
"For me, anytime that I gain the opportunity to speak on behalf of the people has always inspired my art," Debora said. "I think that art is a powerful tool and if I have that gift then that's great. I can use it to change conditions, or bring awareness or conform [with] the people's color, that's what literally inspires me. Everything that has to do with the arts, it's always based around that. For me it's a responsibility as an artist to be able to speak on behalf of my people from past to present and future." 
The help of Homeboy Industries
"I think for me it's always about acknowledging when I talk about the past to understand your cultural experience that has shaped us and gave us the identity, as people [Mexican-Americans]."
Debora has always been somewhat connected to the roots of his community. In the mid '90s he worked with the East Los Angeles Streetscapers, which was founded by Wayne Healy and David Botello in the late 1970s, as part of the Chicano mural movement in LA.
He also served as a counselor and mentor for Homeboy Industries, a non-profit organization in East Los Angeles, that serves gang members who wish to gain re-entry in society. 
"I'm a community leader myself. I got my opportunity at Homeboy Industries. When I came to Homeboy Industries in 2007 to retain my life, that's where I started to get more involved, working with drug addiction, so I became a drug counselor," Debora said. "Soon after I started to learn as an artist the importance of art as a vehicle for the community. So I started to get more involved in utilizing art for the youth and bringing change for the juvenile justice system."