Caregivers must take extra precautions during coronavirus 'stay-at-home' order
Reducing a loved one's exposure
Lisa Fitch OW Editor | 4/2/2020, midnight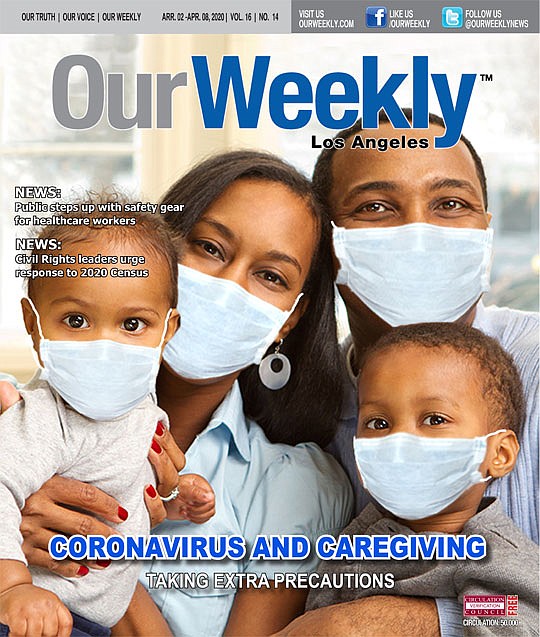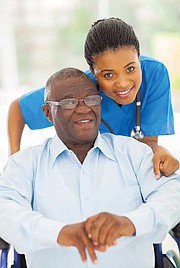 Many South LA residents are caring for elderly loved ones in their homes and have real concerns about exposing shut-ins to the coronavirus (COVID-19).
During the coronavirus pandemic, it's vitally important for caregivers to follow guidelines from the Centers for Disease Control and Prevention (CDC) and to make sure that anyone who enters the house washes their hands immediately. It's also recommended that caregivers wipe down frequently-touched surfaces in the home. Bleach diluted with water can replace those hard-to-find sanitary wipes.
The LA County DPSS office provides an In Home Support Services (IHSS) program which offers trainings throughout the year for its hired caregivers. They recommend that all caregivers, whether paid or unpaid, continue to practice universal precautions as instructed by the Department of Public Health, visit https://www.cdph.ca.gov/programs.CID/DCDC/Pages?immunization/ncov12019.aspx, as a standard of care while delivering services.
Additionally, the DPSS has issued information to IHSS caregivers on how they may protect themselves and their care recipients, including:
Washing hands often with soap and water for at least 20 seconds, especially after blowing your nose, coughing, or sneezing, or having been in a public place.
Avoiding touching their eyes, nose, or mouth with unwashed hands. Avoiding close contact with people who are sick. Staying away from work, school, and other people if you become sick with a fever, cough, or respiratory symptoms.
Eliminating or minimizing visitors
According to a statement by James Bolden, DPSS public information officer, "If caregivers do become ill or experience COVID-19 symptoms, they have been advised not to report to their recipient's home. Instead, they should call the IHSS recipient and let them know they are ill. The recipient and in many cases the relative caregiver, acting as an authorized representative, may contact another provider or the local Personal Assistance Services Council (PASC) to request assistance with finding another provider."
Bolden said that shopping for food and other shopping/errands are current compensable services within IHSS. To apply for IHSS services call their application line at (888) 944-4477.
The CDC advises caregivers to:
— Contact health care providers to obtain extra necessary medications and stock up on over-the-counter drugs.
— Monitor needed medical supplies related to a loved one's condition or treatments (oxygen, incontinence, dialysis, wound care) and common supplies such as tissues and cough syrup.
— Purchase enough nonperishable food items so you are prepared to stay home for some time.
Those who have a loved one in a care facility should monitor the situation, ask about the
health of the other residents frequently and know the protocol if there is a coronavirus outbreak.
There are other preparation steps, too, that caregivers can take, including creating backup plans, according to a recent AARP article.
"This is a good time for families to take stock and revisit contingency plans and to identify family and friends to help with such activities as grocery shopping, [and] stockpiling essential items," says Jennifer Wolff, a professor of Health Policy and Management at Johns Hopkins Bloomberg School of Public Health. "The virus is going to expose and exacerbate the fragile systems that are in place that primarily rely on family and other unpaid caregivers."