Faith and courage in face of coronavirus pandemic
Church Easter messages are not cancelled
Merdies Hayes Managing Editor | 4/9/2020, midnight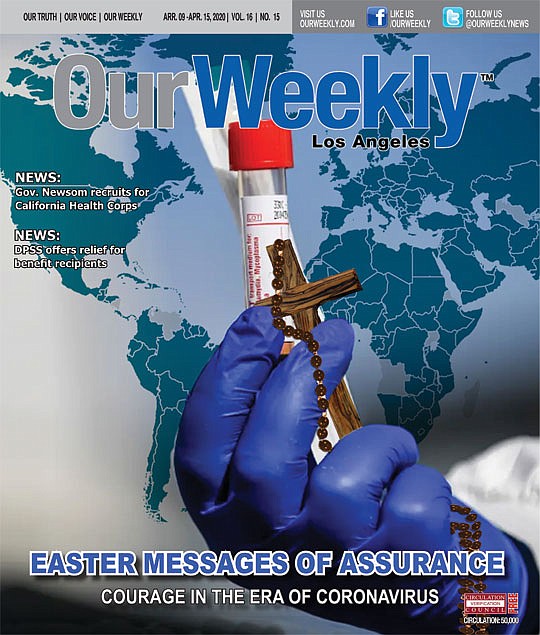 The rapid spread of coronavirus is confusing and frightening for hundreds of millions of people around the world. While the crisis raises serious medical, ethical and logistical questions, it also leads to additional questions for people of faith, especially as the High Holy day of Easter draws near. Despite church doors being shut, religious leaders are available and offer services.
The persecuted Christians in the early church prayed and shared their faith in the Roman catacombs. African-American slaves found refuge and solemnity in hidden "hush harbors" because it was illegal for them to study the Gospels. Throughout history, people have been reminded that the church is not a building...it is the community.
"We as a church have been forced to innovate and learn during this crisis," Bishop Grant J. Hagiya wrote to United Methodist Church congregants. "As I have mentioned before, this is the time for us to adapt and create a new way of being. Without this crisis, we would not have been forced to find new ways to connect and be relevant to our own people and the world around us. We must take advantage of this time to change and become different as a church."
A few weeks ago, West Angeles Church of God in Christ in South Los Angeles canceled its service and instead live-streamed Bishop Charles E. Blake's message online. Churches, mosques, synagogues and temples across the nation are turning to worship services online, via video streaming on their websites, or on social media pages in response to local government directives to not convene in order to slow the spread of coronavirus.
Pastor Cedrick Bridgeforth, Ed.D. held a zoom conference worship planning team meeting recently to address the communications issues the congregation at Grace United Methodist Church faces during the pandemic.
"So as we deliberate and discuss our options, let us challenge ourselves to think liturgically (what brings our traditions and communities together), theologically (what points toward God and holiness), and technologically (what is a means of bridging our many tech divides present in our congregation)," Bridgeforth wrote.
Easter message of hope
In addition to confronting the technological challenges of spreading the word, religious leaders must confront the questions the virus has promoted in their congregations. Even churchgoers may ask why God allows pandemics, but religious leaders say God neither allows nor causes disease.
Bishop Noel Jones, senior pastor of the City of Refuge church believes that the blame doesn't fall on God, but on the one God put in charge.
"We did it within the parameters of our free will," Jones said, noting that the rich, who live affluently, don't take care of others who are disenfranchised. "The problem with the world is it's the rich against the poor. People living on top of each other ferments disease."
"Man wants the wealth of free will , but doesn't want to live with the consequences," Jones said.
"Humans' exercise of free will, power and the need to control is what brings about disparities through out-right disregard for what could be better or best for all." Bridgeforth said, stressing that his upcoming sermon will address the pandemic.