Women's right to vote 100 years old
Black women celebrate 55 years of voting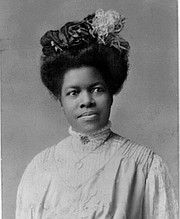 During this week's celebrations of the passage of constitutional amendment 19, which secured women's right to vote 100 years ago, the name of Susan B. Anthony will come up again and again as the suffragist at the center of the movement, a movement that segregated women of color in their marches and meetings.
In reality, Maria W. Stewart, a Black woman, gave one of the first public speeches about women's rights. And we cannot forget the "Ain't I a Woman" speech by Sojourner Truth that rocked the 1851 Women's Rights Convention in Akron, Ohio. Even though many Black women were shut out of the suffrage movement, they understood that it would take systemic change in one area—women's rights—to force change in another—civil rights.
Frederick Douglass put it succinctly at the 1848 Seneca Falls convention, by supporting a resolution demanding votes for women. As the only Black person in attendance, he argued that the principles behind women's empowerment and the principles behind anti-slavery supported one another, saying "all good causes are mutually helpful."
African-Americans saw the women's vote as part of a broader range of social, economic and political issues surrounding our community, according to a YouTube video "19th Amendment: Celebrate its Passage. Fight for its Promise," posted by the New Georgia Project.
Black women like Sojourner Truth, Mary McLeod Bethune, Ida B. Wells, Mary Church Terrell and all of the founding members of the then recently organized Delta Sigma Theta Sorority fought two battles—one for their gender and another for their race within that gender. During the time period of the ratification of the 19th amendment, Black women remained disenfranchised.
Educator and feminist leader Nannie Helen Burroughs, in a response to a White suffragist asking "What would Black women do with the ballot?" replied "What can she do without it?"
Burroughs supported the suffrage movement and saw the vote as essential for Black women's freedom from racial and sex discrimination.
"When we all vote, we get new ideas and new energy… That's how we change America."
—Michelle Obama's WhenWeAllVote.org public service announcement
Although White women won the vote in 1920, it took years for Black women to win the right to vote alongside their Black men, with the passage of the Voting Rights Act of 1965.
According to a new book "Finish the Fight!: The Brave and Revolutionary Women Who Fought for the Right to Vote," there were a number of diverse women who fought for suffrage, but were less recognized for their work.
"I feel like the history I grew up in, it was really told through the lens of what happened to people of color as opposed to what we actually did in the world," said Veronica Chambers, who wrote the book with five other fellow New York Times journalists.
"I think we just have to keep remembering that our vote is so powerful," Chambers said. "That's why they tried to keep it from us and that's why they're still trying to keep it from us. I think it's really, really easy to forget… but this is the year to remember. If there was ever a time to think what can you do? Look at the people on the ballot and know that your voice is the choice."