'Step back'
Rejuvenation is essential during the pandemic
Lisa Fitch Editor-in-Chief | 7/9/2020, midnight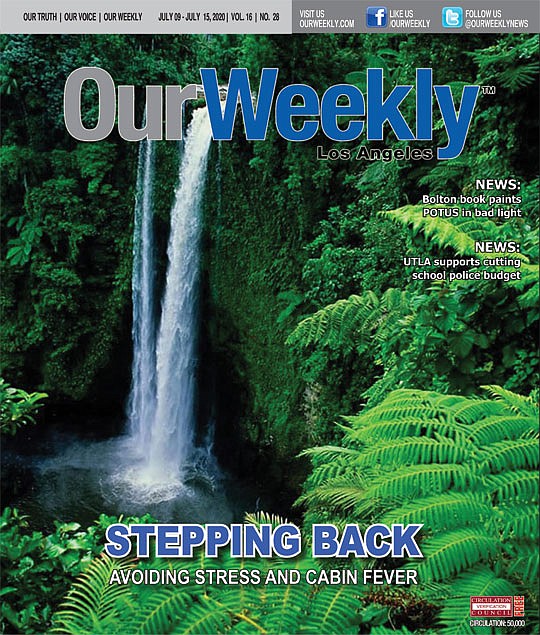 Most of all, Harry reminds readers that none of us has been through this particular circumstance before. This is unfamiliar territory for all of us.
"Be kind and patient with yourself," she said. "We're very hard on ourselves. We're all learning together. Focus on things you have done well: You've adjusted to home and homeschooling and you've made all of these changes, so acknowledge that."
"A big one for me is if you need help, reach out for help—this is new," Harry said. "You shouldn't know how to do this. It's like starting medical school on day one and expecting to know how to suture."
"Asking for help is not a sign of weakness, but a sign of your humanity," Harry said. "I encourage people to reach out. Folks can get stuck in that negative loop of fear and are not able to think clearly."
Harry said there is a chance of increased risk of hypertension during stressful times and referenced a study looking at people who had to be more vigilant.
"You get concerned and you get really vigilant," Harry said. "This increases high blood pressure. The more concerned or impacted about racism...being concerned about your safety in any way increases your stress level."
"Oftentimes we feel that we're handling it well, but people around us who know us start recognizing the differences," Harry said. "They see you're a little more anxious, more depressed, more isolated."
Harry said stress can show itself in little nervous tics, small spasms that should not be ignored, or soreness in neck muscles.
"You might need a break," Harry said. "You might want to step back."
Human beings are social creatures, Harry explained, and do not need to step back alone. She recommends gathering in groups, even via the internet, to support each other. That's what the Campus Ministry department had in mind when they began "Sharing of the Heart" sessions at St. Mary's Academy (SMA), located in Inglewood.
As the director and associate director of campus ministry at the Catholic high school for young women, Alejandra Angel and Jared Anderson-Minor encourage students, faculty, staff and alumni to virtually chat and reflect upon the following questions in each session:
How am I today?
What has happened to me in the last few days?
How have the events of the past week impacted my heart?
For what am I grateful?
What is the invitation that God is extending to me at this moment of my life?
"We are teaching our students to adapt to the uncertainties of today," said SMA Principal Mary Rose Batunbacal in a recent letter to SMA families. "During this period of crisis, it is our responsibility as educators to respond to the needs of the times."
Angel and Anderson-Minor facilitate the talks. They are pleased that some of the students asked that the department "amplify their voices," so students have been trained to act as facilitators, too.
"From a pastoral perspective, I think what I love about it is that it's not limited to any one tradition," Anderson-Minor said." We have a significant population of non-Catholic students. Whatever your background, you can answer these questions and be able to do that within the context of community."