'Lions and tigers and bears' (and more!)
How a childhood obsession became a full time profession
Gregg Reese OW Contributor | 7/16/2020, midnight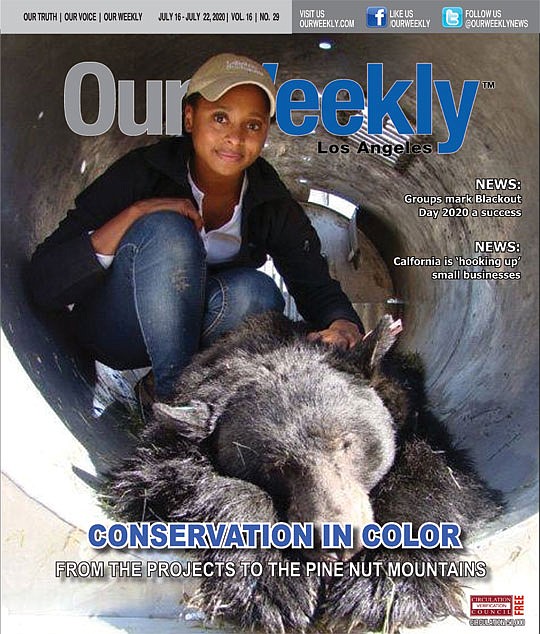 "I've been so blessed to be able to pursue a career like the one I have. One thing that's important for me to communicate is that it's not all fun and games. Wildlife and wild places are facing extinction, so the work my colleagues and I do is mission-critical."
—Rae Wynn-Grant, Ph.D.
Once upon a time in the west, there lived a little girl in a concrete jungle in a big city.
"We lived across the street from the housing projects in a neighborhood that (when I was young in the late 80's) had many challenges typical of lower-income neighborhoods," Rae Wynn-Grant remembered in a recent Our Weekly interview.
There were many such jungles in many big cities across the country, and many such girls in them. But this little girl dreamed of dramatically different environs due in no small part to the television programs she watched.
"Seeing nature on television made me want to become a nature show host very early on," she remembers.
These aspirations were quite logical for an impressionable child with little knowledge about the realities of the grown-up world. Most of us outgrow our youthful flights of fancy, but Rae remained steadfast to her passions, a commitment she deems essential to achieving any substantive goals.
The city was San Francisco (the Fillmore District, specifically), and the little girl grew up to become Rae Wynn-Grant, Ph. D., officially a special director for The Explorer's Club and a member of the board of governors for the Society for Conservation Biology. Most recently, she entered into a Fellowship at the National Geographic Society to promote carnivore conservation.
Wynn-Grant studies the relationships between large carnivores and human beings as they interact in the earth's increasingly small landscape.
The road to these lofty pursuits was long and arduous, with a fair amount of adversity and challenges along the way. The least of which were her struggles with math and science, essential for her career of choice.
A promising classical pianist and vocalist, she hovered between the two disciplines as she approached her high school graduation.
"When it was time to apply for college, I found myself torn between pursuing college and auditioning for conservatories," Wynn-Grant recalls. "I did a few auditions, but ultimately decided to go forward with science at a traditional college."
Even then, her first tentative steps were impeded by a lack of mentoring or role models she could identify with.
On the plus side, being the offspring of folks in non-traditional occupations may have broadened her outlook on her possibilities. Both her father, an architect, and her mother, poet Toni Wynn (http://toniwynn.com/), encouraged her pursuit of this novel undertaking.
With the end of her secondary education, her adventurous side led her to seek out a locale far from her California roots. And so it was that the west coast city girl segued cross country to Emory University in Atlanta, Ga.
The road to her life's calling remained elusive and uneven, however, and her tentative courses in science failed to ignite her curiosity in this stale, static, scholastic setting, as she remembers.