Civil Rights icon John Lewis dead at 80
Walked beside Martin Luther King, Jr.
Lisa Fitch Editor-in-Chief | 7/23/2020, midnight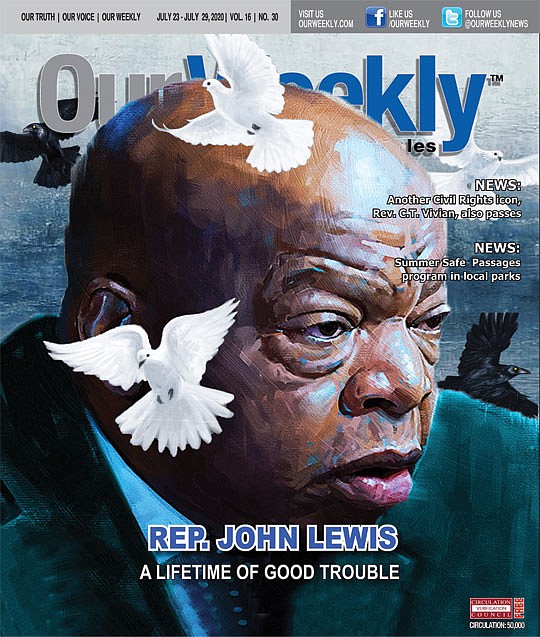 Lewis made a decision to become a part of the Civil Rights Movement and wrote King a letter after he finished high school.
"He sent me a round trip Greyhound bus ticket—invited me to come to Mongomerey to meet with him," Lewis said during an interview on a 2018 "StoryCorps" podcast. "So in March of 1958, by this time I'm 18 years old, I boarded a Greyhound bus. I travelled the 50 miles from Troy to Montgomerey and a young lawyer by the name of Fred Gray, who had been the lawyer for Rosa Parks and Dr. King, met me at the Greyhound bus station and drove me to the First Baptist Church and ushered me into the office of the church.
"I was so scared," Lewis said. "I didn't know what to say or what to do. And Dr. King said, 'Are you the boy from Troy?' And I said, 'Dr. King, I am John Robert Lewis.' I gave my whole name. But he still called me the 'boy from Troy.'"
Lewis was arrested for the first time in Nashville, Tenn., after a lunch counter sit-in. Ironically, he once said that experience was not a deterrent.
"I felt free, liberated," Lewis said. He went on to coordinate several other Civil Rights Movement events for the SNCC.
As a student at Fisk University, John Lewis organized sit-in demonstrations at other segregated lunch counters. In 1961, he volunteered to participate in the Freedom Rides, which challenged segregation at interstate bus terminals across the South. Lewis risked his life on those Rides many times by simply sitting in seats reserved for White patrons. He was also beaten severely by angry mobs and arrested by police for challenging the injustice of Jim Crow segregation in the South.
During the height of the Movement, from 1963 to 1966, Lewis was named Chairman of SNCC. By 1963, he was dubbed one of the Big Six leaders of the Civil Rights Movement. The leaders of prominent civil rights organizations included King, James Farmer, Lewis, A. Philip Randolph, Roy Wilkins and Whitney Young.
The six men were instrumental in the organization of the March on Washington for Jobs and Freedom in 1963. Lewis gave a rousing speech at the event, after King encouraged him to tone down some of his inflammatory language.
In March of 1965, Lewis and Hosea Williams, another notable Civil Rights leader, led over 600 peaceful, orderly protestors across the Edmund Pettus Bridge in Selma to demonstrate the need for voting rights in the state. The marchers were attacked by Alabama state troopers. The news broadcasts and photos revealing the cruelty of the segregated South helped hasten the passage of the Voting Rights Act of 1965.
"I thought I was going to die on the bridge," Lewis said. He suffered a fractured skull.
"Good Trouble" documentary viewers learn the details of what happened before and after that iconic moment on the bridge and how Lewis never lost hope. They discover the intricate planning that went into his activism, from what to wear, how to present himself to how to withstand police violence.