Rep. Karen Bass, CBC, endorse Joe Biden
California
Carol Ozemhoya | OW Contributor | 3/13/2020, 12:02 p.m.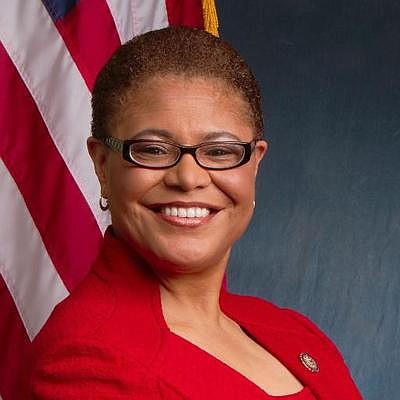 The chairwoman of the Congressional Black Caucus (CBC) has endorsed Joe Biden for president, an influential nod of support that could bolster his 2020 Democratic campaign. The endorsement by Democratic Rep. Karen Bass of California on Friday is the latest testament of a growing coalescence of support for Biden's White House bid, reports the Associated Press.
Biden's campaign has seen a resurgence powered by Black voters, who have helped cement his front-runner status after commanding wins in several recent primaries, including in South Carolina, in several Southern states and just this week in Michigan.
"It's very clear to me that he is the best person, not just to beat (President Donald) Trump, but he is the person to lead at this time," Bass said in an interview with the Associated Press. "I think him having a long-standing history of working with African-American communities, most notably in his own state but around the country, was qualitatively different from the other candidates."
Biden's progressive rival, Sen. Bernie Sanders of Vermont, who has performed well among younger and Latino voters, has struggled to garner support within the African American community. Black voters will continue to be a key demographic as both campaigns eye upcoming primary contests in states with large Black populations, such as Georgia.
Bass said she held off endorsing a candidate because two CBC members, Cory Booker and Kamala Harris, were running for president. Booker and Harris have since dropped out and endorsed Biden, a former vice president and U.S. senator from Delaware.