LA Phil selects new resident fellows
Fellowship program open to string players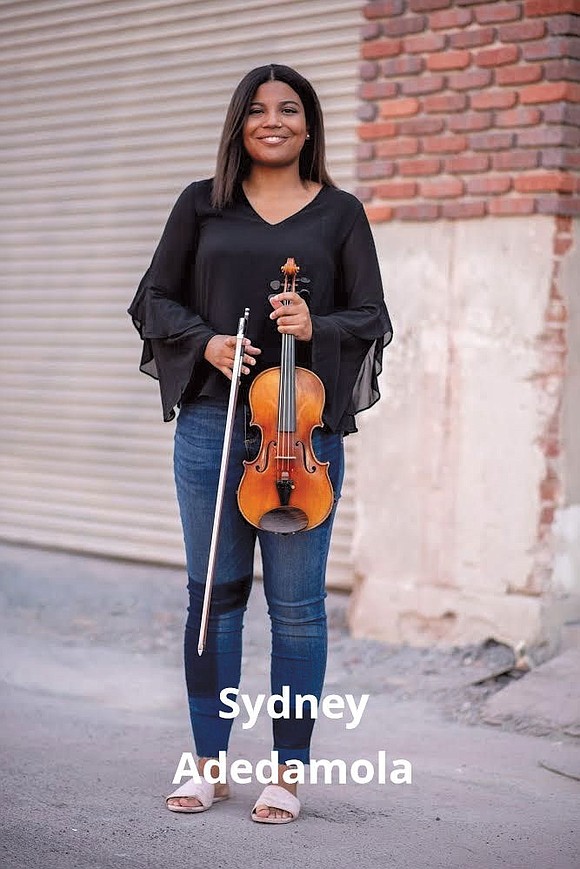 The Los Angeles Philharmonic Association recently announced the two new musicians selected for the newly named Judith and Thomas L. Beckmen LA Phil Resident Fellows program commencing this week: Violinist Sydney Adedamola and violist Jarrett Threadgill.
The fellowship is an excellence-based training program for superb early-career symphonic musicians representing or serving historically underrepresented populations. Its goal is to prepare these musicians to compete for, and win, positions in major professional orchestras.
"There is something so special and intimate about having the freedom," writes Adedamola, "to find a beautiful new sound with other players."
Adedamola is the inaugural chair holder of the Eugene and Marilyn Stein LA Phil Resident Fellow Chair. An accomplished orchestral musician, Adedamola's most recent appointment was in the second violin section of the Seattle Symphony. She has also held a position with the Long Beach Symphony and has performed with various orchestras throughout the country including Pacific Symphony, Kansas City Symphony, Los Angeles Chamber Orchestra, New World Symphony and the National Repertory Orchestra.
Born and raised in Boston, Mass., Sydney began playing the violin at a young age, working her way through New England Conservatory's Preparatory School. She then moved to Los Angeles and earned her Bachelors in Music from the USC's Thornton School of Music. During 2018/19, she was a recipient of the Los Angeles Orchestra Fellowship, a collaboration between the Los Angeles Chamber Orchestra, the Inner City Youth Orchestra of Los Angeles (YOLA) and the University of Southern California.
Threadgill, a Southern California native, began studying music in public school at the age of eight. He graduated from the Orange County High School of the Arts and received his Bachelor of Music degree from Chapman University's Conservatory of Music.
Threadgill spent a year teaching music at Renaissance Arts Academy, a public charter school in Los Angeles. His engagement with these students guided his career development in recognizing the significant impact that equity in music and arts education can have on young children.
Threadgill has performed with many ensemble groups in the United States, as well as around the world. He had the privilege of working under notable conductors, such as Michael Tilson Thomas, Paavo Järvi, Fabio Luisi and Esa-Pekka Salonen.
The fellows program is open to outstanding string players (violin, viola, cello, bass) and percussionists, including those with demonstrated commitment to diversity and inclusion in the arts, learning, and civic leadership, who have earned a bachelor's degree and are from or serve underrepresented populations. The Resident Fellows are selected through a screening and audition process led by musicians of the Los Angeles Philharmonic and LA Phil Music & Artistic Director Gustavo Dudamel.