Pilot program seeks answers to high Black infant mortality
African-American babies die at alarming rate
Merdies Hayes Managing Editor | 9/10/2020, midnight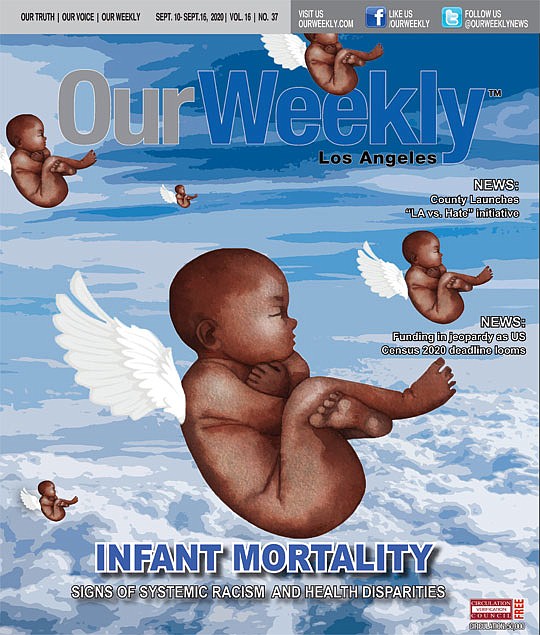 The role of institutional racism
For the past few decades, researchers have looked at the cumulative effects of racism on maternal and infant health. Such studies have suggested that the socioeconomic forces of institutional racism have set African-American and non-Latino White women on different life tracts, with long-term consequences for their health and the both the physical and mental wellbeing of their offspring.
The National Institutes of Mental Health, for instance, has reported that the experience of systematic racial bias—not race itself—can compromise health. African-American families, for example, are usually offered fewer adequate housing options than non-Latino White families—despite often being equally qualified financially  when comparing income levels and credit scores. As well, these expectant Black families are more likely to experience housing instability and eviction. Each of these factors—when applied to the stress placed upon the mother—can play a detrimental role in the prenatal development of the child.
Further studies have shown that maternal depression and anxiety during pregnancy is linked to a higher risk of obesity and diabetes among Black infants.
Risk factors stark among Black women
The risk factors for both maternal and infant mortality among Black people are stark when compared to other races and ethnic groups. Among them are:
—Substandard housing and housing instability
—Concentrated poverty
—Neighborhood safety
—Poor air quality
—Less access to whole foods (i.e. fresh fruits and vegetables), and adequate nutrition daily
—Poor access to quality, comprehensive health care services
—Unequal educational opportunities
—Poor employment opportunities, including lack of access to flexible scheduling, livable wages and day care
—Disproportionate amount of community violence, including police shootings
Despite the negative news, there are promising developments taking place to not only address this growing problem, but also to take steps to curtail it within the nation's most vulnerable communities. For example, advocacy movements such as the Black Lives Matter Alliance and the National Birth Equity Collaborative are creating greater public awareness via campaigns to foster racial and reproductive justice. A few states—including California and North Carolina—have developed health care and research collaborative groups to improve health outcomes for women and infants. Federal, state and local leaders from various states may be able to share lessons learned through the Alliance for Innovation in Maternal Health and the Collaborative Improvement and Innovation Networks which are addressing maternal and infant health. The Health Resources and Services Administration funds these networks.
Positive steps to stem tide
Health Net, a health plan covering more than three million Californians, has established partnerships with local organizations in both South Los Angeles and Sacramento to address these issues. 
In Los Angeles, Health Net awarded a two-year, $484,000 grant to help launch Cherished Futures for Black Moms and Babies, a program providing culturally-based training on implicit racial bias for five area hospitals – with an aim to improve birth outcomes and patient experience for African-American mothers in South Los Angeles and the Antelope Valley.
The program is part of the Communities Lifting Communities (CLC) initiative, sponsored by Health Net and the Hospital Association of Southern California (HASC) in partnership with the Public Health Alliance of Southern California. The pilot initiative will unite key decision makers from local birthing hospitals, public health, health plans, community-based organizations, advocates and patients to co-design systems-change interventions at three levels: clinical, institutional and community.