Multi-agency search continues for person who ambushed deputies
Reward of $175,00 is offered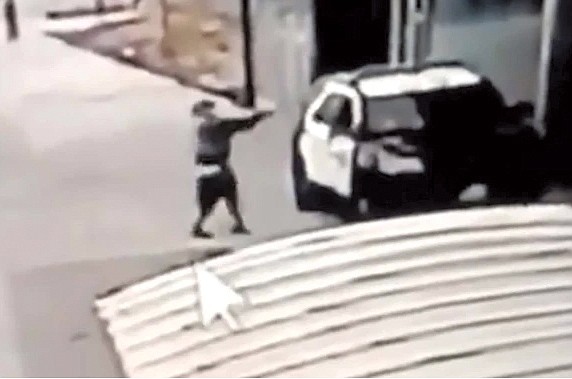 "Both candidates have done a very good job, been very supportive," Villanueva said. "They set aside their political differences and they both stepped up to the plate and said they're here to support the sheriff's department, and we support their efforts."
Relatives of the injured deputies—including the husband of the female deputy and the girlfriend and parents of the male deputy—were at St. Francis Medical Center in Lynwood, where they're being treated.
Villanueva on Monday again lashed out at protesters who showed up at the hospital Saturday night and shouted anti-law-enforcement chants, expressing hope that the deputies die. One witness told ABC7 some protesters tried to force their way into the emergency room while shouting "death to the police."
"They were chanting that they wish the deputies died," Villanueva told KNX Monday. "And I don't even know how to be begin to describe that, other than repulsive, reprehensible."
More video surfaced Monday showing some bystanders at the Metro station taking pictures or video of the wounded deputies after the shooting, and at least in one case, laughing while failing to offer any kind of aid.
County Supervisor Kathryn Barger also didn't mince words Monday about her disgust with the hospital protests. She suggested the shooting was the culmination of "anti-law-enforcement rhetoric expressed by many elected officials, community leaders and others," leading to the creation of a "toxic environment amid a time of civil unrest."
"There's been a constant, constant rhetoric around anti-law enforcement. I support peaceful protest, but what I don't support are the type of comments, especially the ones made outside a hospital, blocking an emergency room where two deputies were fighting for their lives, and you had individuals chanting what they were chanting," a visibly agitated Barger said. "So I believe we have slowly crossed that line, and what you've seen is what has been manifested in the shooting of those two deputies.
"I do believe that. But I believe there are more people out there who support law enforcement than there are that are anti-law enforcement. And what I've said is, we need to weed out the bad in all industries. I'm focused on these two deputies. I'm incredibly disappointed and I'm incredibly frustrated, but I have confidence in the residents of Los Angeles County that we will rally.... Holding accountable bad law enforcement is important, just like holding accountable bad public officials is important. But it doesn't mean that all law enforcement is bad."
The shooting came on the heels of a series of combative protests outside the sheriff's South Los Angeles station, with demonstrators condemning the Aug. 31 fatal shooting by two sheriff's deputies of 29-year-old Dijon Kizzee in the Westmont area. Those demonstrations led to more than three dozen arrests, with the protesters accusing deputies of using excessive force and Villanueva saying demonstrators triggered the violence by hurling objects at sheriff's deputies.
Following the Saturday night shooting, county Supervisor Janice Hahn was among those pleading for calm in the community.
"This ambush of two of our L.A. County sheriff's deputies is horrifying and heinous. It is by the grace of God and the skill of the incredible nurses and surgeons at St. Francis Medical Center that these deputies survived this attack," Hahn said. "We all must come together to condemn any violence. I am asking for calm and for protests to remain peaceful so that we can pursue constructive solutions to the challenges we face as a community."
Also in the wake of the shooting, Villanueva and the sheriff's department are taking criticism over the arrest of a KPCC/LAist reporter while deputies were working to quell the protest outside the hospital. Video from the scene showed deputies pinning reporter Jose Huang to the ground and arresting her.
The sheriff's department claimed she didn't have proper media credentials and was "interfering with a lawful arrest." Villanueva later doubled down on that contention, saying Huang got "right up on the shoulder" of a deputy trying to make an arrest, and saying her actions were more "activism" than journalism.
Video from Huang's cell phone has since surfaced, appearing to contradict the department's description of events. KPCC reported that the video shows Huang repeatedly identifying herself as a reporter, shouting "KPCC," and saying, "You're hurting me" and crying out in apparent pain.
Inspector General Max Huntsman is opening an investigation into the incident.